Olympic Drug Testers Try To Stay Ahead Of Game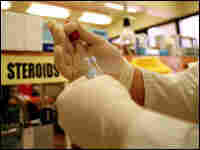 Drug testing in sports is a cat-and-mouse game. The mice are constantly coming up with new ways to cheat their way to the cheese, and the cats are constantly coming up with new ways to catch them.
Drug testers look for currently popular forms of performance-enhancing drugs such as steroids and doping drugs such as erythropoietin (EPO), a synthetic hormone that can boost oxygen levels in blood. But they're always thinking about what the next drug will be and how to detect it.
Larry Bowers of the U.S. Anti-Doping Agency (USADA) says the area to watch is oxygen transport. That's what EPO influences. Bowers says the next big thing is a class called EPO mimetics, substances that act like EPO but don't get tagged by EPO tests.
Another type of enhancer that could cause a problem, Bowers says, is a compound found in red wine that manipulates mitochondria in cells to create energy instead of heat. Viagra may have an athletic application as well, but so far, it only appears to have an effect when used at high altitudes.
Some of the athletes' attempts are decidedly more low tech. Rather than trying to hide the effects of drugs they're taking, athletes also try to substitute clean samples for their own bodily fluids. As a result, says Bowers, testers have to make full observations of urine samples, but athletes have tried to attach devices to parts of their bodies to fool sample collectors. Such devices have acquired colorful nicknames, such as the "whizzinator" or the "butt wedge."
The USADA tests U.S. athletes in every Olympic event.
Is any sport clean? "Curling comes to mind," Bowers says. "I'm not aware of them ever having a positive drug test." The same cannot be said of table tennis.