Clinton Seeking Money To Pay Off Campaign Debt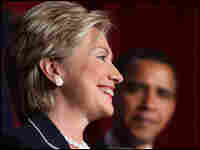 Former rival Sens. Barack Obama and Hillary Clinton appeared side by side at a fundraiser in New York City Thursday night. The event was held to fill the coffers of Obama's presidential campaign and to help Clinton retire over $10 million in debt from her own failed run.
Since dropping out of the race, Clinton and her staff have been reaching out to her former supporters through e-mail to encourage them to keep on giving. "I'm so grateful for all you've done for me — all the ways you have given your time, energy and financial resources. But today I am asking once again for your help ridding our campaign of debt so we can keep fighting together," reads one e-mail from Clinton.
It's clear why people donate to their favorite candidates during a race, but why would they continue to give once a candidate has dropped out?
Renee Fye, of Orlando, Fla., gave to the Clinton campaign during the nomination fight. After the candidate dropped out, Fye saw no reason to send money.
"I think it is admirable of her to want to try to pay it back, but since her campaign is over, I don't know what to tell her," Fye says. "As far as donating any further, I'm now shifting my support to another candidate."
Joseph Bringmanm of Seattle, Wash., says he was glad to donate while Clinton was running. But he's not about to write another check, "given the way the campaign was misdirected early on, when Clinton's campaign coffers were full," he says. "I'm not inclined to contribute further solely for debt relief."
For Donna Klein, a lawyer from New Orleans, the reason to keep donating is obvious. "To me, if you support what that person stood for ... and you were supporting them while they ran, then I don't know why you would stop supporting them once it's over," Klien says. "People are cheering her on and saying, 'Stay in,' and she does and it costs money. If you can afford it, whatever amount it is, I just think it's the right thing to do."