The Bryant Park Project Community Speaks Out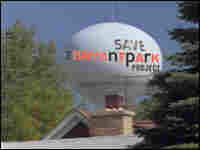 After NPR announced it was pulling the plug on the Bryant Park Project, says new-media consultant Rob Paterson, public radio producers around the country began wondering how anyone in radio could make a go of innovative programming for a digital age.
If a digital show that built a loyal audience and enjoyed the backing of a large organization like NPR can't survive, he asks, then what show could? The answer, he suggests, may be a cheaper one.
"When you're trying to try the new now, in public media, I think the important thing is to look at how big your start-off cost is," Paterson says. "I'm really wondering whether going to any air at all is a worthwhile experience."
According to a report in the New York Times, the Bryant Project began with an annual operating budget of $2 million. If the show had spent far less, existed only online and drawn an audience of a million in its first year, he says, NPR executives would have considered it a runaway success. "They would have been absolutely thrilled," he says. "It would have been fantastic."
Meanwhile, listeners have flooded onto the show's blog to register their reactions. "This is the worst news ever!" writes a commenter named Chris. "I love BPP, it needs more time to grow! I love it as is, though. This is not fair. Any plans to fight it?"
A few cheered the show's ending. "Good riddance," writes Laura. "The BPP was drivel and an embarrassment to NPR — awful reporting and a lame format. While having dinner with friends on Saturday we were all talking about how horrid this show was. I won't be missing it ... and may decide to subscribe to the NPR Shuffle podcast once again, knowing I won't have to suffer through any more BPP pieces."
Several asked whether there might be some way to save the Bryant Park Project. Listener Trevor Noel of Denver started a Facebook campaign, championed by the blog Radio Sweethearts.
But in the end, says Paterson, the lesson to be learned is one about budgets and money. He says he continues to think about ways to resurrect the show, one that takes advantage of the community already in place. "You have more than an audience — you have a kind of Bryant Park club," he says. "I'm wondering whether there's life after death here."