Dr. Feel Better: Ted Leo, Sans The Pharmacists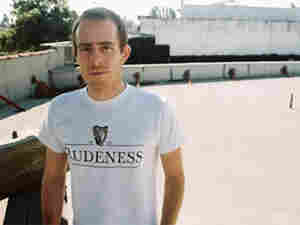 Ted Leo of the group Ted Leo and The Pharmacists recently stopped by the Bryant Park Project to play a special solo set before his performance at New York's River to River Festival.
Leo performed "Fisherman's Blues" by The Waterboys on guitar, an instrument he didn't start playing until he was 18. "I was a music fan, and I just consumed music," he says. "I sang before I actually played guitar in bands." Rather than taking the reins himself and creating something of his own, he says, "I was kind of content with just being a fan for a long time."
Leo also played a new song called "The Mighty Sparrow."
Known for his blending of different musical styles — including rock, soul, punk, and pop — Leo maintains broad musical interests, but he says that no matter what, he always seems drawn back to politics. "I try these experiments at writing love songs," Leo says, "but politics just sort of creeps in."
Purchase Featured Music
Album

Living with the Living

Artist

Ted Leo and the Pharmacists

Label

Touch & Go

Released

2007
Your purchase helps support NPR Programming. How?