The Bobs in Studio on World Cafe 7/22/08
The Bobs: Irreverent A Cappella
The Bobs: Irreverent A Cappella
The Bobs in Studio on World Cafe 7/22/08
Set List
"Imaginary Tuba"
"Tight Pants Tango"
"Kill Your Television"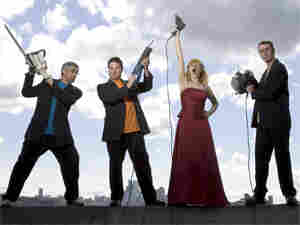 From their beginnings giving singing telegrams, The Bobs' founders (Gunnar Madsen and Matthew Stull) recruited bass singer Richard Greene and Janie Scott in the higher register to complete the a cappella quartet.
In addition to its original tunes, the group covers Talking Heads' "Psycho Killer" and performs an award-winning arrangement of "Helter Skelter" by The Beatles. The Bobs' performances are a display of vocal acrobatics; combined with the group's irreverent lyrics, the result is an internationally acclaimed sound. In a session with host David Dye, the quartet sings material from its latest CD, Get Your Monkey off My Dog.