Sam Phillips in Studio on World Cafe 7/23/08
Sam Phillips Says Everything With 'Anything'
Sam Phillips Says Everything With 'Anything'
Sam Phillips in Studio on World Cafe 7/23/08
Set List
"Sister Rosetta Goes Before Us"
"Little Plastic Life"
"Signal"
"No Explanations"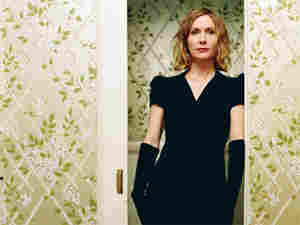 For the first time in her 20-year career, singer-songwriter Sam Phillips goes it alone on the curiously titled Don't Do Anything. Having taken on multiple styles, Phillips has seemed most comfortable as a woman with an acoustic guitar ever since 2001's Fan Dance. In a session with host David Dye, Phillips displays her songwriting prowess with just that, accompanied only violinist and guitarist Erik Gorfain.
Don't Do Anything seems prime for lyrical investigation: It's her first album since her divorce from husband and longtime producer T-Bone Burnett. Still, she manages to convey a universal message of strength and vulnerability through varied perspectives and clever lyrics.
This segment originally aired on July 23, 2008.
Sam Phillips: Tiny Desk Concert
I don't think enough people have heard the music of Sam Phillips, and now seems like a good time to change that. Her songs unfold like perfect, miniature pop dramas. Her new album, Don't Do Anything, is loaded with great ones. Of all her incarnations as a performer — first as a Christian singer, then as a pop singer — the current Sam Phillips is the one I find most alluring.
All Songs Considered recently asked Phillips to play an intimate concert at my desk here at NPR. She listened to a Tiny Desk Concert we did with Laura Gibson, and that convinced Phillips to play for us. Little did we know that our air conditioning would die during a record-breaking heat wave on that day, but she was a trouper.
Now you can see and hear Sam Phillips perform four songs with the help of Erik Gorfain, who plays an electric guitar with amps the size of cigarette boxes. He also trots out a Stroh violin — a contraption that must be seen to be believed.
Set List
"Sister Rosetta Goes Before Us"
"No Explanations"
"Signal"
"Little Plastic Life"
Credits
Cameras by Bob Boilen and Frannie Kelley