Future Of Brutalist-Designed Church Not Concrete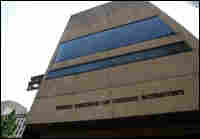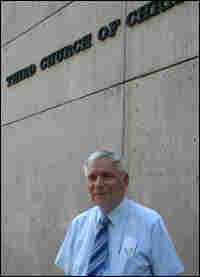 In Washington, D.C., about two blocks from the White House, there's a Christian Science church that looks more like a concrete fortress than a house of worship. The Third Church of Christ, Scientist — or the Third Church — is a hulking mass of raw concrete. There's one window, no steeple, and its bells are suspended from a slab of concrete that juts out from the side.
When it was built in 1971, it created a sensation. It still does.
"It's like a weird box in the middle of Washington, with bells in one side," mused Beltran Romero, visiting the city from Spain. "What is it?" he asks, craning his neck. "Oh! It's a church!"
LaVerne Hill, who works nearby, says she's loathed the place for years.
"It's awful," she says. "It looks like they just dumped a bunch of concrete down here and shaped it into a box."
Which is, in fact, what the architects did. The building was designed by Araldo Cossutta, who worked with I.M. Pei. It is a classic example of Brutalism, which was popular in the 1950s and 1960s but fell out of favor in the 1970s.
The concrete was poured on the spot, leaving a 60-foot-tall bunker that is hard to heat and harder to cool.
With eight sides of nearly identical concrete and a tucked-away entrance, it's also nearly impossible to find your way inside.
'Stay Away'
Darrow Kirkpatrick, a longtime church member, says the building sends precisely the wrong message.
"We think it says, 'Stay away.' Something goes on in here that they don't want to get outside, which is exactly wrong for all Christianity. We don't think the architecture conveys taking the Word to the people."
Form is not the only problem. There is also function. The concrete absorbs water and the building is cracking and the skylight blinds the organist.
And then there are the lights.
"It's $5,000 to $8,000 to change a light bulb," he says. "The reason is you have to erect scaffolding to change the light bulbs or the ballast."
He switches the lights on, noting that many bulbs are burned out but the congregation will have to make do for another few months.
The congregation wants to tear down the building and build another, smaller church. But it can't.
In 1991 — unknown to the church's members — a group of preservationists applied to have the Third Church designated a historic landmark. From that moment, the congregation couldn't touch the building. Last year, the city made it an official landmark, and now the Third Church is suing to have the status removed.
Kirkpatrick says the restrictions infringe on their freedom of religion.
"Nothing expresses a church's religious exercise more than its architecture. And this architecture does not express our theology and our exercise. Brutalism is not our religious expression," he says.
But it's going to be tough to win in court. Robert Tuttle, a church-state expert at George Washington Law School, says cost and inconvenience are not enough. The church must show its expression of religion is "substantially burdened."
Preserving History
Courts have different standards on what that means, but often it's a high bar. Namely, he says, church members must show they cannot practice the religion without overhauling or demolishing it.
"If it's restrictive, the court may say, 'You haven't shown us that there's no other way to make use of this space, whether giving it to someone else, or making minor alterations to the outside that will allow you to make a more attractive use of it.' "
Tuttle notes that this happens all the time, leaving property owners helpless. But it's the price of preserving a piece of history.
"As long as you can get some value out of your property, the government is allowed to regulate it. And that's what's happening in historic preservation — they still have some use of the property, but it may not be as much as people what. The story of land use regulation is you don't get to do what you want."
The question is, does anybody like the Third Church?
Randall Ott, dean of architectural design at Catholic University, wrote a letter to the city in defense of the historic landmark designation. He says there are perhaps only a dozen Brutalist churches in the country. Moreover, it has a certain aggressive, honest appeal, he says.
"Modernism was not about making buildings that looked like stuffed teddy bears that appealed to all," he says. "Modernism was a fairly austere, fairly confrontational style, and the Third Church is an obvious example of that style."
Turning Pretty
David Fixler, an architect at the forefront of preserving modern architecture, pauses a beat when asked why he likes this building.
"Well, I will admit that this is one of the tougher ones," he says. "But it does have character. It does have integrity as an architectural idea. And I think that it makes a very powerful architectural statement."
"Buildings go through these vicissitudes of time," says Ott. "The city is about preserving a historical construct, and we have to be cautious. It may be considered ugly today. Will we consider it as ugly in 50 years? We do not know."
Even Ott admits that preserving Brutalist architecture isn't so easy. Across the country, people are racing to tear down similar buildings — such as Boston's City Hall and Baltimore's Mechanic Theater — and preservationists are scurrying to get them landmarked before that happens.
All of which is of little concern to the members of the Third Church, who are caught in the middle of this high-minded debate. They just want a new church.