Anti-War Protesters To March As McCain Speaks
Max Whittaker/Getty Images
Max Whittaker/Getty Images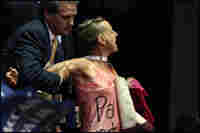 Justin Sullivan/Getty Images
The final night of the Republican National Convention is the last chance for protesters in the Twin Cities to have their voices heard.
An anti-war march was scheduled for Thursday evening, and police braced for possible confrontations. Every day of the convention so far, there has been some sort of clash, and at least 440 people have been arrested.
But there is some debate over who is responsible for the friction.
At the beginning of the week, it was clear what the protesters were angry about. Tens of thousands of people attended an anti-war march that wound its way through downtown St. Paul, Minn. But the message got lost in isolated instances of violence. Some protesters broke windows. Nearly 300 people were arrested after police used tear gas to control the crowd.
On Thursday morning, the anarchist collective that has been organizing the protests finally spoke publicly. Andy Fahlstrom is with the group called the RNC Welcoming Committee. In front of a crowd of his supporters, he said that any violence in the streets should be blamed on the overwhelming police presence around the Xcel Energy Center, site of the GOP convention.
"Did any of the protesters shoot rubber bullets? Did any of the proteseors fire concussion grenades at human beings? The questions here are way off," Fahlstrom said.
The questions being asked are about whether the anarchist group plotted to do more than protest at the convention. Police raided the group's headquarters over the weekend. The police say they had informants in the group who reported plans to kidnap delegates and disrupt the convention.
St. Paul Police Chief John Harrington said that the informants were essential to the early arrest of some members of the group and allowed the police "to get insight into the minds of the rioters."
With members of the anarchist group in jail and the hundreds of arrests the first day, the rest of the convention nights have been less volatile.
But there have been some notable exceptions. Wednesday night more than 100 people were arrested after a Rage Against the Machine concert in Minneapolis. Two members of the anti-war group Code Pink made it onto the floor of the convention during the speech by Alaska Gov. Sarah Palin, the Republican vice presidential candidate.
Members of the anarchist group, the RNC Welcoming Committee, say that they do not know what happened to spark violence in the marches, and they claim no knowledge of anyone building explosives or stockpiling items to throw at delegates.
One protester, Betsy Raasch-Gilman, said she's dedicated to nonviolence. "There are no terrorists up here. There are terrorists in the White House and that's why we organized these protests," she said.
Attendance at this week's protests has been lower than expected. Police officials say the isolated violence may have frightened some of the more peaceful protesters from coming downtown.