Matthew Dowd: A Political Convert. Yet Again.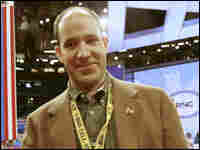 Unlike Karl Rove, Matthew Dowd is not a household name. He is not a regular source of fodder for late-night comedians. He does not have an office in the White House. He doesn't even live in Washington, D.C. Yet Dowd, 45, was arguably just as important as Rove in getting President Bush elected to the White House. Twice.
Dowd played a key role as a pollster in 2000 and was appointed the president's chief strategist during the 2004 campaign. He has also worked as an adviser to California Gov. Arnold Schwarzenegger. He has even advised the NBA, which was trying to repair its image after a brawl between players and fans in 2005.
Dowd is considered an expert at interpreting polls, someone with a sixth sense for which way the political winds are blowing. During the 2004 campaign, Dowd was one of those responsible for painting Democratic Sen. John Kerry as a flip-flopper who could not be trusted with matters of national security.
That makes Dowd's recent comments all the more surprising. In a wide-ranging interview with The New York Times, Dowd called for a withdrawal of U.S. troops from Iraq and criticized President Bush for failing to unite the nation, as he had promised during his campaigns.
"I really like him, which is probably why I'm so disappointed in things. I think he's become more, in my view, secluded and bubbled in," Dowd told the Times.
The New York Times interview was not Dowd's first public criticism of President Bush. Here's what he wrote in Texas Monthly in March:
"The problem is that his gut-level bond with the American public has been seriously damaged and may be lost.... When many of us thought we would have helped solve the problem of polarization, we're in an even more polarized place."
Dowd got to know Bush and Rove when he worked for Texas Lt. Gov. Bob Bullock, a Democrat who became Bush's close ally. But Dowd never quite fit in with the Bush team. He preferred jeans and casual shirts to a jacket and tie. And he is a fairly recent convert to the Republican Party.
Dowd had been a life-long Democrat, but he switched party allegiances in 1999. Partly, he says, because he was disappointed by the Clinton years, and partly because he saw President Bush, then governor of Texas, as someone who could bring a spirit of cooperation to Washington.
"It's almost like you fall in love. I was frustrated about Washington, the inability for people to get stuff done and bridge divides. And this guy's personality — he cared about education and taking a different stand on immigration," he told The New York Times.
One of 11 children, Dowd grew up in Michigan, where his father worked for Chrysler. When asked about his family's political leanings, Dowd once said, "They split about the way the country does. On any given day it is 50-50."
Dowd traditionally has shied away from the media, and tried to keep his personal life separate from the professional. However, it is now part of the story bubbling inside the Beltway.
In recent years, Dowd has suffered personal hardship: the death of a premature twin daughter and a divorce. His son, an Army intelligence specialist, is scheduled to serve in Iraq soon. That fact, President Bush and two top aides have suggested, explains why Dowd is now speaking out publicly against the war.
Dan Bartlett, counselor to the president, told CBS' Bob Schieffer on Sunday that Dowd's position was a question of personal emotions.
"He himself has acknowledged that he's going through a lot of personal turmoil," Bartlett said. "But also, he has a son who is soon to be deployed to Iraq. That could only impact a parent's mind as they think through these issues. I say that only in the sense that I know it's something that weighs heavily on him."
Dowd, in an interview on All Things Considered Friday, acknowledged that his son's situation is a factor in his decision to speak out now. But he insisted that it is not the only factor: "I think all the best decisions we make are heart felt. Part of what is in my heart is obviously my son. But it has much more to do with the whole panorama of the issues involved in Iraq than just one single thing about my son."