'Burn' Notice: Losers Losing, And No One Cares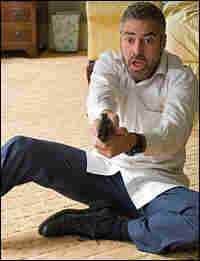 Burn After Reading
Director: The Coen Brothers
Genre: Black Comedy
Running Time: 96 minutes
Rated R: Cheating, lying, shooting, cursing and the occasional mention of sex toys.
Watch Clips
'You Think That's a Schwinn?'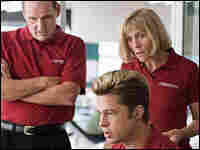 Burn After Reading is a burlesque of paranoid-conspiracy films like Syriana — with the same lead, George Clooney, as the biggest of its buffoons. The movie is a boisterous doodle, and it's a little thin.
But it's fun to think about in light of Joel and Ethan Coen's pet theme: tunnel vision. In their films, people act out of such narrow self-interest that they become, as the title of the Coens' first feature spells out, blood simple. No one sees the whole picture — except the audience, which laughs at the monkeyshines or, in the case of No Country for Old Men, gasps at the cruelty.
No Country, adapted from Cormac McCarthy, gave the Coens' cynicism weight: God had left the field, chaos ruled, stooges died meaningless deaths. I found it almost too upsetting — and it must have been a workout for the Coens as well, because it turns out they wrote Burn After Reading simultaneously, going back and forth between, literally, the sublime and the ridiculous.
The brothers are masters at taking found objects — cliches, genre tropes — and mixing them into a uniquely Coensian fruitcake. Here, they open with the camera plunging from a satellite view of Earth to CIA headquarters while drums pound portentously.
An intelligence analyst (John Malkovich) is brusquely demoted, and we're cued by the somber setup to think he's too good at his job and has tread on higher-ups' toes.
But it turns out his demotion is because he's a total lush. Now, he says, he will have his revenge! He'll pen a memoir that exposes the agency's inner workings!
When his computer disk full of rambling notes turns up in the locker room of his health club, a pair of employees (Frances McDormand and Brad Pitt) become inept blackmailers — and I won't say more because the narrative is such a labyrinth of idiocy that part of the fun is getting lost.
There are lots of in-jokes. Clooney plays a federal marshal who gets sucked into the plot. He's involved with Tilda Swinton, as Malkovich's frosty wife, and Clooney — who got the better of Swinton in Michael Clayton — is here her inferior, a twitchy sex addict with one-tenth the charisma of, say, George Clooney.
McDormand's character is obsessed with plastic surgery and whines to Richard Jenkins (as her lovelorn boss) about her body in a way that I'm sure bears some relation to her own career.
Jenkins's nebbishy contortions are exquisite, and McDormand is all revved up and having a jolly time. So is Brad Pitt as a muscled-up but sweet boob who attempts to make a deal with Malkovich for the return of his CIA memoir notes.
I love Malkovich's escalating hysteria in that scene. But for all its amusing curlicues, Burn After Reading is basically a one-joke movie, and it feels long even at 90 minutes. That the characters are fools and nothing is at stake is the comic point, but it's hard to shake the idea that the Coens are on autopilot.
Their great comedy The Big Lebowski was a genre burlesque, too, of Raymond Chandler, but its stoner anti-hero, played by Jeff Bridges, had a weird stature that transcended the premise, and there was so much loopy invention you didn't have time to get bored.
Here, the only surprises are a couple of bloody deaths that seem to belong in another film. Burn After Reading suggests it's not enough to set clowns on collision courses; the filmmakers have to have some emotional stake in the outcome. In No Country for Old Men, the Coens clearly lamented the waste of life. Here they seem to give a little shrug and say, "Oh, well."
And so, in the end, do we.