Some Wall Street Traders Angry Over Bailout, Too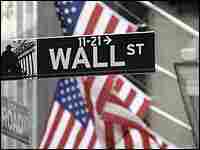 For years, Wall Street traders in running shoes and flashy Italian ties — the Masters of the Universe, as Tom Wolfe dubbed them — moved millions of dollars while warning against government intervention in the markets. Now, they have to hope that the $700 billion financial rescue plan passed by dowdy congressmen and signed by President Bush will work.
"This whole mess that we're in now is horrible for everyone, whether you work on Wall Street or you work on Main Street," Jason Weisberg, a trader for Seaport Securities, told NPR's Scott Simon on the floor of the New York Stock Exchange this week.
Although Weisberg had hoped the bailout bill would pass, he wasn't looking forward to the changes it would bring to how he does business. "We're going to be overregulated because others took great risk," he said. "We're all paying the price now."
Anger At Wall Street
Weisberg says he understands the anger that many Americans are feeling toward people who work on Wall Street. "I guess I would be angry, too, if I were them," he said.
"However, I don't express the same kind of anger when I see the lumps of money that are going out to subsidize farmers to sit on crops. A lot of the financing that farmers, for example, get for equipment and seed comes from Wall Street.
"The credit that they get ... trickles down to everyone," Weisberg said. "This country operates on credit."
But he admits that persuading Americans to accept the bailout bill is hard. "The way it's being portrayed, I wouldn't sign up for it either. But I'm in the business, and I understand it. We're victims; we're all victims of this. I mean, everyone in the country is a victim. It doesn't matter where you are."
If people don't want to save Wall Street, that's OK, Weisberg said. But Americans' lifestyles will change dramatically as a result.
"The fact of the matter is if someone in the middle of America needs to buy a car ... they need credit to do it. If Wall Street's not around, they can't get that credit to do it," he said.
Who's To Blame?
Another trader, Alan Valdes of the investment firm Hilliard Lyons, believes public opposition to the bill stems from two decades of opulent perks and extravagant compensation for corporate executives.
"Wall Street's frustrated with that, too. The average person on Wall Street is embarrassed by what happened, and basically we're all just workers down here," Valdes said from the floor of the NYSE.
At his level, Valdes explains, the anger is aimed at top-level managers. "They can't be trusted any more than you could trust a 13-year-old kid with millions of dollars," he said.
Ultimately, Valdes blames the current chaos on housing, citing reform legislation passed nearly 20 years ago by the Department of Housing and Urban Development. "That legislation was passed in '89 by a Congress who felt that you could just lower standards for lending and everything else would be OK," he said. "It's great if it works, but it really doesn't work."
Valdes said that even though Wall Street suspected years ago that a crisis was impending, nothing was done. "Nothing changed and as a result, we're in this mess right now."
Did greed on Wall Street play a part? Without a doubt, Valdes said. But the bailout bill will be a bitter remedy for a problem that both Wall Street and Capitol Hill could have addressed long ago.