Unexpected Classics from Uncommon Combos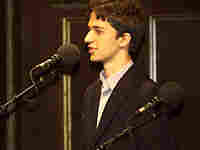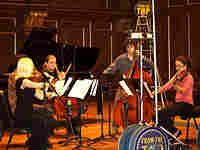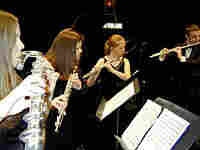 This week From the Top highlights five remarkable young chamber music groups from past shows. In this "uncommon combos" show, six bassoons play a lively march, three percussionists share one marimba in careful choreography, and an ensemble of teenage string players performs a serenade by a gifted 18-year-old composer.
The members of the Rattan Trio clearly have impressive musical chops. Not only that, they are nimble, almost balletic, performers because the three young percussionists – Molly Yeh,15, Michael Drake, 18, and Stefani Weiss, 16 – share a single marimba. Needless to say this arrangement presents challenges.
"We have to do a lot of physical movement, but we also have to do so in the same contained space," explains Yeh, who had to learn to hold her arms closer in towards her body when playing. "Molly used to stick her elbows out like a chicken," laughs Drake.
All teasing aside, the members of the trio get along quite well. Their unbeatable chemistry was never more evident than when they took home the gold medal in the junior division of the Fischoff Chamber Music Competition – the first percussion ensemble ever to win gold at the prestigious competition.
When the Rattan Trio performs "Stubernik" by Mark Ford, the players circle each other, reaching for different keys to create seamless sets of rising scales. They also create unique percussive sounds by playing on unexpected parts of the instrument. While Yeh plays the marimba's keys, Drake strikes the pipes with his mallet sticks and Weiss keeps the beat on the end boards.
The six musicians of the Northern Hills Bassoon Ensemble are well aware of what it takes to turn in a successful performance. In addition to talent and practice, there's movtivation and intonation.
"Bassoon intonation is so flexible that the pitch varies, and that makes it harder to stay in tune together," says the group's contrabassoonist Ben Moermond, 16. "You have to play your instrument a lot to know what its tendencies are so you can make adjustments." All six members of the ensemble study with the same teacher, Russel Hinkle.
The ensemble plays two spirited pieces: Richard Cioffari's "4 Fagotten March," arranged especially for six bassons by the composer and Kurt Noack's Heinzelmannchen's Wachtparade.
The five members of The Governor's School for the Arts Flute Choir — Matthew Aiello, 18; Joshua VanDavier, 18; Melanie Libbey, 16; Dana Leonard, 15; and Emily Meyers, 15 — are all students at the Governor's School for the Arts in Virginia.
"We all go to regular academic high schools in the morning," explains VanDavier, "and then we have intensive arts training for three hours in the afternoon through the Governor's School."
The flute choir performs Catherine McMichael's "Ecossaise" from The Academie of Dance, and closes the show with Dmitri Kabalevsky's Comedians' Gallop.
"Easygoing" could be a word that describes the young cellists of the Walnut Hill Cello Trio, who got together especially for this show.
"We all help each other out," says 17-year-old Matan Chorev. "We like to joke about music stuff, like playing in a really cheesy way. We take work seriously but not ourselves."
Kee-Hyun Kim, 18, enjoys the brotherly spirit of the group.
"We teach each other, and as we teach we also learn ourselves," Kim says. "Everyone in the group offers insightful comments that help you see things in a different way."
Ask these musical chums to describe one another's playing and the compliments start flowing. Both Marcus Johnson and Chorey rave about Kim's cello sound.
"Every time I hear him play," says Johnson, 17, "I think, 'Now that's the cello sound!'" He's even been dubbed "The Korean Rostropovich" by Chorev.
They play Jan Popper's Requiem for three cellos and piano, accompanied by host Christopher O'Riley.
When pianists Wei Wei Hsu, Si Yi Fang and Kaisaer Ainiwaer all sit at one piano they call themselves 6HM, which stands for Six-Handed Monster.
"Playing six-hand piano is fun because it's so energetic and loud," says Ainiwaer. It may be fun, but playing six-hand piano is not always easy.
"We all have different playing styles which is challenging," explains Hsu. "Si Yi has a more delicate sound, Kaisaer has a louder sound, and I'm the one who is always rushing. It was hard to find a balance at first."
The trio had to work through a few physical issues as well.
"We share such a tight space, and our hands are always fighting with each other," explains Fang. "We're all used to letting our elbows move all over the place, but in this situation we had to make compromises to work together in the small space."
The students met in Michigan at the Interlochen Arts Academy. They perform an arrangement of "America" from West Side Story by Leonard Bernstein.
Composer Stephen Feigenbaum, 18, has great respect for all kinds of music and wishes there were less of a divide between popular and classical styles.
"I think pop music is a legitimate expression of music and that classical music needs to be better integrated into the mainstream," he explains.
Feigenbaum hopes to make a living writing music that appeals to a wide audience. He's looking forward to his one-on-one mentoring session with American composer John Harbison.
The Tarantella Quartet with double bassist Nicholas Schwartz performs Feigenbaum's Serenade for Strings, which won him first place in the Senior Category of the MTNA Student Composition Competition in Massachusetts.