Remembering Jackie Robinson's Historic First Game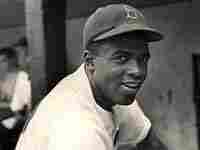 i
Photo by Hulton Archive/Getty Images
In Depth
Sixty years ago this Sunday, Jackie Robinson overcame seemingly insurmountable odds to become the first African American ever to play Major League Baseball. He changed the game — and the country — in the process.
Robinson would go on to win Rookie of the Year and help lead the Brooklyn Dodgers to six pennants in his ten seasons. He also opened the door for future Hall of Famers like Hank Aaron, Willie Mays and Dave Winfield.
"I can say to my children, there is a chance for you," Robinson said in a 1952 essay for This I Believe. "No guarantee, but a chance."
Dodger pitcher Ralph Branca, Dodger catcher Bobby Bragan, Jonathan Eig, author of Opening Day: The Story of Jackie Robinson's First Season, Lester Rodney, who covered Robinson for the New York Daily Worker, and Dave Winfield, Yankee Hall of Famer and author of Dropping the Ball: Baseball's Troubles and How We Can and Must Solve Them, remember Robinson with Cory Turner.