Live Chat: Interpreting The Obama Moment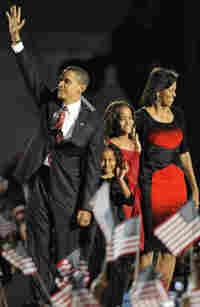 After Tuesday's landslide, one of the most thrilling and certainly longest election seasons on record has left a seismic aftermath in Washington. As one party struggles to redefine itself, Barack Obama is poised to become the United States' first black president.
In an online chat at NPR.org, four political analysts talked about the history, the mandates and the challenges ahead.
Moderator:
Dick Meyer is editorial director for NPR digital media and author of Why We Hate Us.
Panelists:
Ken Rudin, political editor for NPR, Rudin has analyzed every congressional race in the nation since 1984.
Beth Donovan is elections editor for NPR News.
Rod Dreher, a Republican since the '80s, is a columnist and online editorial page editor for The Dallas Morning News.