CCH Pounder, Taking Charge of 'The Shield'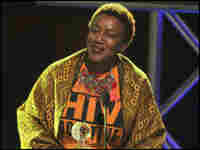 Chad Buchanan/Getty Images
Best known for her portrayal of Detective Claudette Wyms on The Shield, actress CCH Pounder also boasts film credits ranging from Bagdad Cafe to Benny & Joon; her Shield character's recent promotion to the rank of captain promises new story lines.
Raised in Guyana and schooled in Britain, Pounder tells Terry Gross that it was only when she started using an American accent in her roles that she found herself the target of racial epithets.
"The thing about being black and having a different accent, in the beginning, is that it makes you foreign," she says. "It does not make you — how can I use this word? I'll say it and then you edit it some other way: a n——-."
"And so, with your accent, you are somewhat protected by being foreign. But I wanted to be an American actress. ... I knew that that was where the real stories would be; it would take England much much longer to come up with these stories. ...
"[So] I subjected myself to that feeling. ... When people talk to you, and you receive those insults and barbs ... you kind of become a part of society. It's part of the whole assimilation ... system, really. The moment you're not foreign, then you get hurts, and pains, and pangs. ... You are no longer protected by your foreignness."
Pounder talks with Terry Gross about her work on The Shield, about how fans reacted when her character was passed over for promotion (in favor of an officer played by guest star Glenn Close), and about how film and television directors have dealt — sometimes with a painful awkwardness — with questions of race and class.
"I've actually been [asked] by directors, could I be more black? And I would say sort of, 'Well, just look at me, and tell me what ... What exactly do you want?
"Because I can't get much blacker than I physically am," she laughs. "But what attitude would you like?"
This interview was first broadcast on June 5, 2006.