Rokia Traore: Gershwin, By Way Of Mali
Tuesday's Pick
Song: "The Man I Love"
Artist: Rokia Traoré
CD: Tchamanché
Genre: World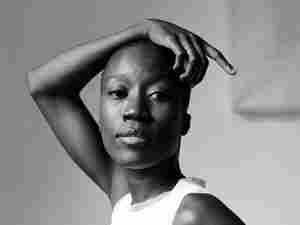 Over the past 10 years, Malian singer-songwriter Rokia Traoré has carved out a special place in contemporary African music. Her ensemble combines instruments from various Malian traditional cultures, along with her own guitar — unusual for a female singer in West Africa — and a cool, understated sensibility quite apart from the boisterousness of Mali's best-known singers. On her fourth album, Tchamanché, Traoré makes her strongest and most personal statement yet, leaving aside her acoustic guitar and picking up vintage electric axes, while paring her ensemble down to achieve cool, classy minimalism.
Traoré isn't the first African singer to take on an American jazz standard, but her version of George and Ira Gershwin's "The Man I Love" sets a new standard. Channeling Billie Holiday without losing herself, Traoré delivers a deeply satisfying read, subtly infused with African-ness as a lute converses with her electric guitar throughout. As the song swings to its climax, Traoré briefly shows off her impressive range of vocal colors, just enough to let listeners know what she can do, with all the cool of a jazz master and all the mystery of an African diva.
Listen to yesterday's Song of the Day, and subscribe to the Song of the Day newsletter.