Buddy Holly: Lubbock's Famous Native Son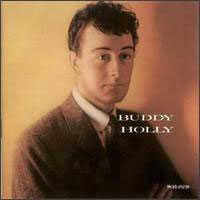 This past weekend, rock 'n' roll fans from around the country and around the world gathered in Lubbock, Tex. They came for their annual conference to honor Lubbock's most famous native son, Buddy Holly.
Buddy Holly would have been 47 years old this coming Wednesday, but as many of us learned in the movie about Buddy Holly that came out a few years back, he died in a plane crash in 1959, along with singers Richie Valens and the Big Bopper. Holly was at the peak of his career when he was killed, rivaling Elvis Presley as the country's top rock 'n' roller. His music was simple and rough, and according to music critic Joe Nick Patoski, it was in the right place at the right time.
"I think it was mainly a very exciting type of rock 'n' roll in an era when rock 'n' roll was more than just music. It was a whole lifestyle, and he brought a lot of excitement to it, a lot of vitality. And Lord knows his ability to write songs can't be underrated, because the songs are still being re-recorded today, and you can't say that about most of the songwriters of the '50s, for that matter."
Click the "Listen Now" link above to hear more about Buddy Holly.