'My Fair Lady'
NPR 100 Fact Sheet
Title: My Fair Lady
Artist: Frederick Loewe/Alan Jay Lerner
Reporter: Jeff Lunden
Producer: Jeff Lunden
Editor: Elizabeth Blair
Length: 13:30
Interviewees: Kitty Carlisle Hart (DAT available); Alan Jay Lerner (archival), Rex Harrison (archival)
Recordings Used: My Fair Lady – original cast recording, featuring Rex Harrison and Julie Andrews – Sony Classical/Columbia/Legacy (Overture, "Just You Wait," "Why Can't The English?," "Wouldn't It Be Loverly?," "The Rain In Spain," "I'm An Ordinary Man," "Show Me," "I've Grown Accustomed To Her Face," "You Did It" and "I Could've Danced All Night"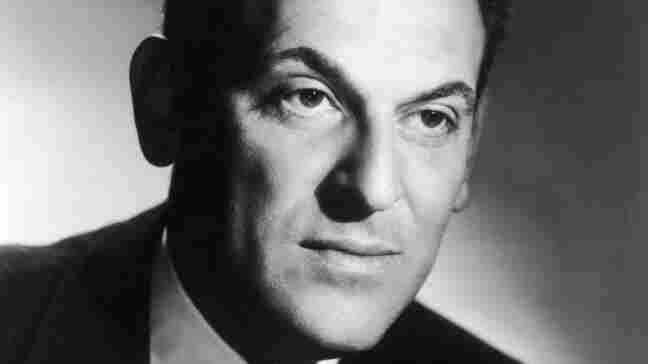 Getty Images/Getty Images
Rodgers and Hammerstein, Cole Porter, "Yip" Harburg--every one of those great songwriters turned down the opportunity to adapt George Bernard Shaw's Pygmalion into a musical comedy. It was too wordy, they said; not romantic; it would just never work as a musical. But librettist Alan Jay Lerner and composer Frederick Loewe wanted to try. Together with director Moss Hart, movie and theatrical star Rex Harrison and a teen-age stage ingenue called Julie Andrews, they created a classic: My Fair Lady.
"This is a perfect musical," says Kitty Carlisle Hart, wife of the late Moss Hart, who directed My Fair Lady. "It's a perfect marriage of story and music and lyrics. They don't come along that often."
And in the case of My Fair Lady, they almost didn't come along at all. Alan Jay Lerner and Frederick Loewe, who had written the hit shows "Brigadoon" and "Paint Your Wagon," were approached by Hollywood producer Gabriel Pascal in the spring of 1952 with an intriguing proposition. Pascal owned the rights to the late George Bernard Shaw's "Pygmalion," and wanted to know if Lerner and Loewe would be interested in turning it into a musical. Shaw's 1914 drawing-room comedy of class differences about the misogynistic linguist Henry Higgins, who teaches Cockney flower girl Eliza Doolittle to use proper English, didn't seem on the surface to be fertile ground for a musical. Indeed, in 1978, Alan Jay Lerner told the BBC that even Shaw had expressed his doubts about it.
"Somebody once asked him about doing "Pygmalion" as a musical, and he said only Mozart was capable of doing it. So I doubt if he would have ever allowed us, or anyone, to do an adaptation of it."
Still, Lerner and Loewe decided to take on the challenge. But only a half-year later, they gave up. "Pygmalion" didn't allow them to conform to the conventions of the musical stage. The writers couldn't figure out how to open up the story to add a chorus or how to contrive a subplot which they felt was needed to take pressure off the main plot. When Lerner and Loewe abandoned "Pygmalion," they separately moved on to other projects. Then, in the summer of 1954, Lerner opened his morning newspaper to find an obituary for Gabriel Pascal, and his thoughts returned to "Pygmalion." He realized that a subplot wasn't necessary. Shaw's characters were varied enough to provide musical contrast. And he also realized that the musical could be opened up just by taking some of the offstage action described in the text and putting it onstage. Lerner called Loewe, and the two men began working immediately. Lerner said that he and Fritz Loewe always started writing songs with a title in mind.
"Once I had the title that sort of said what the mood and the idea was, then Fritz would go to the piano and start to play," Lerner said in a vintage recording. "He had been a concert pianist, so he was the improvising kind of composer. I would sit in the room, always--he liked me to sit there when he was composing, because he'd always go into a trance as he was playing. And all of a sudden I'd say, `Wait! Stop! That's fine.'"
"Just You Wait" was one of the first songs they wrote. Even before the score was completed, Lerner and Loewe decided to pursue Rex Harrison for the leading role of Henry Higgins. They flew to London and wooed him for five weeks before he said yes. Harrison, though musical, had never sung onstage before. He told the BBC in 1967 that he developed what he called a talk-singing style for Higgins.
"I was using the melody, but not singing it. I mean, I could use notes, and sometimes when I was doing the play I used to use quite a lot of the notes. Sometimes I would use hardly any of the notes. But I was able to sort of jiggle it about."
During the trip to London, a friend took Lerner and Loewe to the Covent Garden flower market at 4 AM on a chilly January morning. Lerner recalled the scene in a lecture at New York's 92nd Street Y.
"We wandered around in the flower market with the people who were selling," Lerner said in that lecture, "the flower girls and so on, and we actually did see a group of Cockneys sitting around a smudge-pot fire, and I suddenly realized how much creature comforts meant to those people.
Returning to New York, Lerner and Loewe hired 19-year-old Julie Andrews, who was starring in "The Boyfriend" on Broadway, to play Eliza. As "My Fair Lady" approached its rehearsal date, Lerner said that one number came very quickly.
"Fritz and I were talking as we walked up the street one day; `How shall we end that whole section of Eliza's lessons?' And I said, `Well, why don't we just put all of the lessons together and do something called "The Rain in Spain." And Fritz said, `Oh, fine; let's do it as a tango.' We walked upstairs to where we were working, and he did it in about 10 minutes."
Rehearsals began in January of 1956. And despite afternoon tea breaks for the English members of the cast, there was much tension.
"Rex regarded himself as the protector of Shaw against the barbaric Americans, and so anytime he came to a line that seemed different, he would say, `Where's my Penguin?'--the Penguin edition. He'd look it up to see if there'd been any change. So I thought, `You don't solve that by confrontation.' I went out and I bought a stuffed penguin. And the next day he said `Where's my Penguin,' they rolled in the stuffed penguin, and everybody laughed."
All of the actors were veteran stage performers with the exception of Julie Andrews. And it soon became clear that she was having trouble with the demands of her role. Director Moss Hart took the dramatic step of dismissing the entire company for two days, and in a case of life imitating art, he went over her part line by line, dictating the interpretation.
"And because she was so clever and so talented and such an extraordinary performer, she got it all," Kitty Carlisle Hart recalls. "But I could hear Moss' voice in her readings for the first two weeks of her rehearsals, and after that she made it her own."
The first performance of "My Fair Lady" took place in New Haven, Connecticut, in the middle of a blizzard. It almost got canceled not by snow, but by Rex Harrison. He felt terribly insecure after a rehearsal with the orchestra, and refused to perform.
"And he called the producers, and he said, `I never wanted to be in musical com. I don't like musical com, and I don't intend to open this evening,'" Ms. Hart remembers. "And Moss went to see Rex, and he said, `Rex, I tell you what I'm going to do. I'm going to go out there and I'm going to tell that audience, which has mushed through the snow, "Rex Harrison is not going to play tonight because he's yellow."' (Laughs) Well, that did it. So Rex opened. And, of course, he was just incomparable."
From its first performance, "My Fair Lady" was a hit with the audience. But much work needed to be done. Numbers were dropped, dialogue was trimmed, dances were shortened. After four additional weeks of polishing and tweaking in Philadelphia, "My Fair Lady" opened on Broadway on March 16th, 1956. All the reviews in the major daily newspapers were raves, and the show took up residence at the Mark Hellinger Theatre for 2,717 performances.
Kitty Carlisle Hart had known the German-born Fritz Loewe since he was an aspiring composer and pianist in the 1930s.
"Je would say, (in German accent) `Someday I am going to write the best musical on Broadway,'" Hart remembers. "And I would think, `Really? You and who else?' Now laugh dissolve, as they say in the movies. And now it's opening night of "My Fair Lady," and it's 35 years later and by this time Fritz and I are old friends. And he came to me and he said, (in German accent) `Well, I wrote the best musical on Broadway.' And I said, `Boy, did you ever, Fritzie, did you ever.'"