The Story Of 'A Love Supreme'
The Story Of 'A Love Supreme'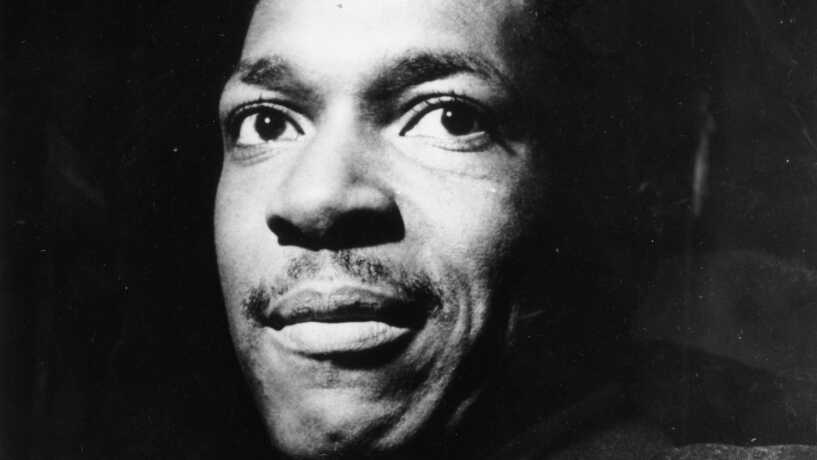 Evening Standard/Getty Images
John Coltrane recorded A Love Supreme in December of 1964 and released it the following year. He presented it as a spiritual declaration that his musical devotion was now intertwined with his faith in God. In many ways, the album mirrors Coltrane's spiritual quest that grew out of his personal troubles, including a long struggle with drug and alcohol addiction.
From the opening gong and tenor saxophone flutter, a four-note bass line builds under the sound. This simple riff becomes the musical framework for the rich improvisations that comprise John Coltrane's 33-minute musical journey.
"I remember they cut the lights down kind of," says McCoy Tyner, who played piano on A Love Supreme as a member of Coltrane's band in the early and mid-'60s. "The lights were dimmed in the studio. I guess they were trying to get a nightclub effect or whatever. I don't know if it was John's suggestion or whatever. I remember the lights being dimmed."
It made sense to try to imitate the dim-lighted intimacy of a club during the studio recordings, he says, because it was on stage during live shows where the quartet would explore, practice and rehearse new material. He says there was an amazing unspoken communication during the "Love Supreme" sessions. In fact, he says, Coltrane gave very few verbal directions. Tyner calls the album a culmination and natural extension of chemistry honed through years of playing together live.
"You see, one thing about that music is that it showed you that we had reached a level where you could move the music around. John had a very wonderful way of being flexible with the music, flexing it, stretching it. You know, we reflected that kind of thing. He gave us the freedom to do that. We thought of something, 'Oh, then we'll play it,' you know? And he said, 'Yeah, I have a feeling'--you know? And all that freedom just came together when we did that record."
It was that free-wheeling openness which allowed the musicians--Coltrane, Tyner, along with drummer Elvin Jones and bassist Jimmy Garrison--to build a complex four-part suite around a relatively basic musical idea.
Lewis Porter heads the masters program in jazz history and research at Rutgers University-Newark. He's the author of John Coltrane: His Life and Music. Porter says that simple idea culminating in the first movement with an unprecedented verbal chant by Coltrane forms the foundation of the entire suite. It's a theme Coltrane consciously uses in subtle and careful ways throughout A Love Supreme. For example, toward the end of part one, "Acknowledgement," Coltrane plays the riff in every key.
NPR 100 Fact Sheet
Title: A Love Supreme
Artist: John Coltrane
Reporter: Eric Westervelt
Producer: Jeff Rogers
Editor: Jeff Rogers
Length: 00:12:58
Interviewees: McCoy Tyner (DAT on way to HQ)
Prof. Lewis Porter (DAT on way to HQ)
Bishop Franzo
Wayne King
Recordings Used: "A Love Supreme"
"Coltrane's more or less finished his improvisation, and he just starts playing the 'Love Supreme' motif, but he changes the key another time, another time, another time. This is something very unusual. It's not the way he usually improvises. It's not really improvised. It's something that he's doing. And if you actually follow it through, he ends up playing this little 'Love Supreme' theme in all 12 possible keys," says Porter. "To me, he's giving you a message here. First of all, he's introduced the idea. He's experimented with it. He's improvised with it with great intensity. Now he's saying it's everywhere. It's in all 12 keys. Anywhere you look, you're going to find this 'Love Supreme.' He's showing you that in a very conscious way on his saxophone. So to me, he's really very carefully thought about how he wants to present the idea."
While A Love Supreme is a recognized musical masterpiece, it had enormous personal significance for Coltrane. In the spring of 1957, his dependence on heroin and alcohol lost him one of the best jobs in jazz. He was playing sax and touring with Miles Davis' popular group when he became unreliable and strung out. Alternately catatonic and brilliant, Coltrane's behavior and playing became increasingly erratic. Davis fired him after a live show that April.
Soon after, Coltrane resolved to clean up his act. He would later write, in the 1964 liner notes to A Love Supreme, "In the year of 1957, I experienced, by the grace of God, a spiritual awakening, which was to lead me to a richer, fuller, more productive life."
But Coltrane didn't always stay the clean course. As he also wrote in the album's notes, "As time and events moved on, I entered into a phase which is contradictory to the pledge and away from the esteemed path. But thankfully now, through the merciful hand of God, I do perceive and have been fully reinformed of his omnipotence. It is truly a love supreme."
The album is, in many ways, a reaffirmation of faith. And the suite lays out what you might call its four phases: "Acknowledgement," "Resolution," "Pursuance" and "Psalms." A Love Supreme has even spawned something of a religious sect. Reverend Franzo Wayne King is pastor of the Saint John Coltrane African Orthodox Church in San Francisco. The congregation mixes African Orthodox liturgy with Coltrane's quotes and a heavy dose of his music. Pastor King calls the album the cornerstone of his 200-member church.
Hear John Coltrane's Story
"When you look at the composition of titles and the sequence in which John has them laid out, we say that there's formula in that album. When he says, 'Acknowledgements, resolutions and pursuance,' it's like saying, 'Father, Son and Holy Ghost.' It's like saying, 'Melody, harmony and rhythm.' In other words, you have to acknowledge and then you resolve and then you pursue, and the manifestation of it is a love supreme."
While it's unknown whether Coltrane would have wanted to be worshiped or have his art deified, it's clear in every way that he saw A Love Supreme as much more than just another recording. Coltrane took control of every detail of the album, unlike any of his other works, including writing the liner notes and an accompanying poem. The poem, it's been discovered, is written to match the slow music of the fourth movement, "Psalms." It's a connection Coltrane hints at cryptically in the liner notes.
Pastor King remembers the day his congregation made the discovery. "It was so funny. We were here. We had been collected as a community, and we used to just read it and try to put some passion in it, you know. And then one day, we were reading the album, because he said the last part is 'Psalms,' which is in context, written context. And we said, 'Well, what is he trying to say here?' And then we put it on and sang, 'A love supreme. I would do all I can to be worthy of you, oh, Lord.' It's kind of like Pentecostal preaching, you know," Pastor King says. "We had a great day. We woke up and found out that the music and the words went together, and that was like a further encouragement that John Coltrane was, indeed, you know, sent by God and that that sound had really jumped down from the throne of heaven, so to speak."
While Pastor King sees explicit Christian symbolism in A Love Supreme, others point out that Coltrane took a much more general view. Coltrane was careful to say that while he was raised Christian, his searchings had led him to realize that all religions had a piece of the truth.
Only once did Coltrane perform the entire "Love Supreme" suite live, and there are no recorded interviews in which he talks about the album's personal significance. In fact, Coltrane didn't even talk about it with his band mates. "We didn't talk about a lot of things," says Tyner. But he does say the band knew that A Love Supreme had unique chemistry.
"He told me, he says, 'I respond to what's around me,'" remembers Tyner. "That's the way it should be, you know? And it was just--I couldn't wait to go to work at night. It was just such a wonderful experience. I mean, I didn't know what we were going to do. We couldn't really explain why things came together so well, you know, and why it was, you know, meant to be. I mean, it's hard to explain things like that."