Director's Cuts: Fresh Stuff
Director's Cuts: Fresh Stuff
Weekend Edition Sunday music director Ned Wharton reviews the latest new releases on CD, including Gonzalo Rubalcaba, a Parasol Records sampler and Slang.
Parasol Sweet Sixteen Vol 3
Parasol's Sweet Sixteen Volume 3: A Collection of Parasol, Hidden Agenda, and Mud Label Releases is a solid collection of indie bands. The cd's available from the Parasol Records website.
Ivy
After a long hiatus resulting from record label woes, studio snafus, etc., Dominique Durand, Andy Chase and Adam Schlesinger's group Ivy are back in business. Long Distance is available on Nettwerk Records. The fan website is The Ivy Vine.
Seks Bomba
This Boston-based band covers the waterfront of surf, spy, lounge, 60's retro, all presented with a tight and energetic sound. Somewhere In This Town is their cd on Ya Ya Records.
Slang
Duo of Dave Schools and Layng Martine III have created an interesting collage of roots-rock sounds over a rich soundscape in The Bellwether Project on Terminus Records.
Cachaito
Of all the spinoffs from the wildly popular Buena Vista Social Club documentary, this is one of the freshest: bass player Orlando Cachaito Lopez plays with top-notch musicians from Cuba and beyond. Cachaito is the World Circuit/Nonesuch label.
Gonzalo Rubalcaba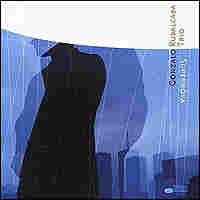 Supernova is the 7th cd on Blue Note Records by this fiery Cuban pianist and bandleader.
Related NPR Stories