Poetry and Politics
Conference Brings Together State Poets Laureate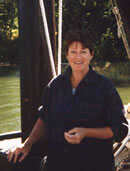 Poets laureate from across the United States gather this weekend in New Hampshire for a groundbreaking conference on the role of poetry in society. Poets laureate from some 30 states, plus politicians and educators, will explore poetry's capacity to bring about social, political, and cultural change.
"The idea of bringing poets and politicians together was a natural for the state that plays a unique role in U.S. politics," says New Hampshire Poet Laureate Marie Harris. The conference was her brainchild.
"During the [presidential] primary season, New Hampshire is where a lot of the key issues facing our country get defined and debated. We want to make sure that culture and, specifically, poetry, is part of that discussion. While the tradition of state poet laureate has been around since the 1930s, most state poets laureate have never met. There wasn't even a central list of who they all were until we began to put this together," Harris says.
The event is hosted by the New Hampshire Writers' Project (NHWP), with assistance from the Academy of American Poets.
There are three primary goals, says NHWP Executive Director Katie Goodman. "We want to gather the poets in one place and provide informal opportunities for them to exchange information, ideas and concerns. The role of the laureate is not well defined in any state, and it seems to be up to the individual to interpret the position and to initiate presentations, programs and occasional poetry to address the place of the poet in society.
"Secondly, we want to make sure that poetry and culture are part of the political discussion in the upcoming election season... and finally, we see this not as an end in itself, but rather the beginning of the discussion that will certainly continue, in one form or another, for years. And, although we have no expectations of specific outcomes, we're confident that the issues raised will serve to ignite further exploration of the poet's public role."
Related NPR Stories
Web Resources