John Vanderslice: 'Cellar Door'
Singer-Songwriter's Straight-Ahead Take on Big Themes
Web Extra: Hear an Extended Version of Christian Bordal's Conversation with Musician John Vanderslice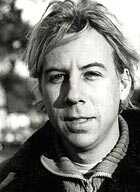 A new CD called Cellar Door could bring some well-deserved attention to San Francisco singer-songwriter John Vanderslice. Independent music critic Christian Bordal profiles the artist and his music for Day to Day.
"Vanderslice is writing distinctive melodies, lyrics that have something to say -- and he can say it with skill -- and arrangements that are creative, unique and well executed," Bordal says. "He deserves to be heard."
From 'Cellar Door'
Hear full-length cuts from John Vanderslice's latest CD:
'Pale Horse'
'Coming and Going on Easy Terms'
'My Family Tree'
Vanderslice has an unusual approach to lyrics. For one of the standout tracks on Cellar Door -- a song called "Pale Horse" -- he adapted the lyrics from a poem by Shelley about a massacre committed by the British army in 1819. He tells Bordal he used the poem to express some of his own feelings about the war in Iraq.
For other tracks, Bordal says, Vanderslice uses direct, unambiguous language to describe tragedies and emotions that approach the autobiographical. He says the words to "My Family Tree" mirror his experience with his own estranged father.
"And so, like all writers these things are amplified and exaggerated," he tells Bordal. "The feelings of regret that I had over my father and not staying in touch needed some story line."
Related NPR Stories