House Approves Food-Allergen Labeling Bill
The House passes legislation requiring food manufacturers to list common food allergens in plain English on their labels, a move already approved in the Senate. Some allergens, such as peanuts, can cause fatal reactions. President Bush is expected to sign the bill into law soon. Hear NPR's Julie Rovner.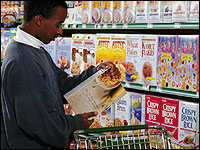 Related NPR Stories
NPR transcripts are created on a rush deadline by an NPR contractor. This text may not be in its final form and may be updated or revised in the future. Accuracy and availability may vary. The authoritative record of NPR's programming is the audio record.