Recalling the Mayhem of '68 Convention
Tensions over Vietnam Upset Chicago Political Scene
Hear Sen. Abraham Ribicoff's anti-Mayor Daley remarks at the Chicago convention.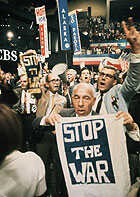 Next week's 2004 Democratic National Convention in Boston will in all likelihood be a well-scripted affair. In these fractious pre-election days, Republicans and Democrats both have a desire to keep their nominating conventions on message. And that's often the case. But at the 1968 Democratic Convention in Chicago, the script was thrown out the window.
The main flashpoint of the convention was the war in Vietnam. Thousands of anti-war protesters had gathered six miles away on Michigan Street. Fences, barbed wire and a strong police force kept them back from the delegate gathering at Chicago's International Ampitheater. And a telephone and taxi strike kept delegates and reporters inside in the dark for hours about what was going on outside.
Chicago police broke up a protest outside the Hilton hotel with tear gas and clubs. When footage eventually arrived at the convention, delegates reacted first with disbelief, then anger. Commentator and former CBS-TV anchorman Walter Cronkite replays what happened next.