Analyzing Kerry's Stump Speech
Web Extra: Kerry Speech Sept. 10, 2004, in Allentown, Pa.
Web Extra: Bush Speech Sept. 13, 2004, in Holland, Mich.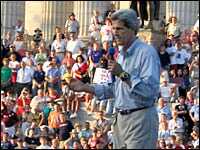 Like President Bush, Sen. John Kerry has a standard speech he delivers at every rally and whistle stop on the campaign trail. Though it's evolved over time, key elements of the speech remain constant: the opening joke and overarching campaign message. NPR's Mara Liasson reports.
Related NPR Stories
Web Resources