SpaceShipOne Takes X-Prize
SpaceShipOne becomes the first privately funded rocket plane to complete two trips to the edge of space within a two-week window. The feat makes the craft the apparent winner of a $10-million award known as the X-Prize, designed to encourage space tourism. Hear NPR's David Kestenbaum.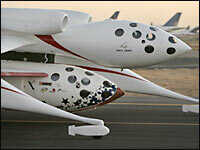 NPR transcripts are created on a rush deadline by an NPR contractor. This text may not be in its final form and may be updated or revised in the future. Accuracy and availability may vary. The authoritative record of NPR's programming is the audio record.