U.S. Forces Move Through Fallujah
U.S.-led forces say they control 70 percent of Fallujah, on the third day of an offensive to rid the Iraqi city of insurgents. Marines believe insurgents will regroup after the fighting, but they hope the city will no longer provide them an absolute safe haven. Hear NPR's Anne Garrels.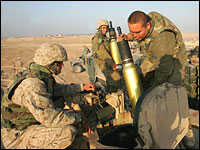 Update: Troops' Discovery Found Not to Be Sarin Gas
NPR transcripts are created on a rush deadline by an NPR contractor. This text may not be in its final form and may be updated or revised in the future. Accuracy and availability may vary. The authoritative record of NPR's programming is the audio record.