Overcoming E-Mail Overload at Work
There has been an explosion of e-mail in offices across the country, and not all of it is spam. Answering 50 or 100 e-mails a day -- or just wading through them -- can disrupt workflow and cost money. Business consultant Marilyn Paul offers ways to rein in e-mail -- and make it a tool instead of a burden.
Managing Your E-Mail
Using e-mail well can be a challenge. Marilyn Paul offers some ways to improve:
Meet as a team to review e-mail use. Identify what works, what doesn't, and why. Create a trial period for improvement: Meet to discuss after a week.
Use subject-line protocols to speed communication: a.) No reply needed – NRN; b.) Thank you - TY; c.) Need response by date and time – NRB 10/30 3:00 pm; d.) Use subject line for whole message: Meet 10:00 10/30 Okay? END
Determine who needs to be copied on what, what needs to be read, and what needs to be filed.
Keep e-mails short. Most should be no more than 1-10 sentences. Communicate your main point in the first sentence or two. Don't make readers work because you don't have time to focus.
Don't deliver bad news in an e-mail message. If it's urgent, pick up the phone. Use tone of voice to indicate concern, but not anger.
After two rounds of problem-solving on e-mail, pick up the phone.
Don't hide behind e-mail. Any sensitive communications should be done in person.
If you can't answer a request immediately, let the other party know when you can respond, or if you can't.
NO EMOTIONAL E-MAILS: To resolve a conflict, schedule a meeting or use the phone. E-mail arguments tend to be huge time-wasters. Never send a hasty, irritated response to an annoying e-mail -- jobs have been lost that way.
Paul, author of It's Hard To Make a Difference When You Can't Find Your Keys, says that remembering some practical tips can help people, and offices -- use e-mail more effectively. She says it all begins with not relying on e-mail to be an urgent forum for discussion. Instead, Paul says, it should be a peripheral tool for keeping in touch with colleagues and clients.
By keeping messages short and refusing to let circles of conversation take place in round after round of e-mail, workers and their colleagues can handle tasks more effectively, according to Paul, who holds a Ph.D. in organization and management from Yale and an M.B.A. from Cornell.
And at all costs, emotional or angry e-mails should be avoided, Paul says. For messages meant to pass on sensitive information -- or resolve a conflict or misunderstanding -- she recommends using the phone, or taking a step that can seem downright old-fashioned: meeting face to face.
Related NPR Stories
Web Resources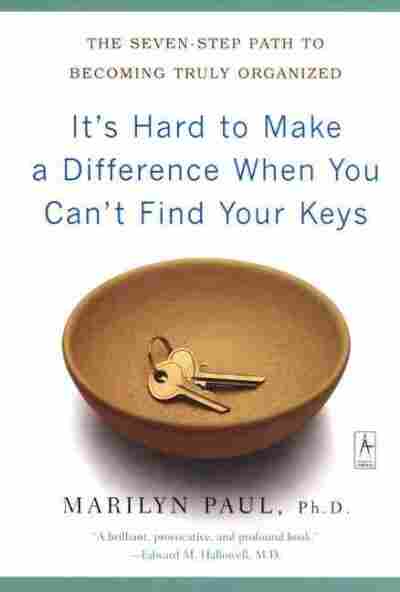 It's Hard to Make a Difference When You Can't Find Your Keys
The Seven-Step Path to Becoming Truly Organized
Paperback, 303 pages |
purchase
Buy Featured Book
Title

It's Hard to Make a Difference When You Can't Find Your Keys

Subtitle

The Seven-Step Path to Becoming Truly Organized

Author

Marilyn Paul
Your purchase helps support NPR programming. How?