Everything '80s Is New Again for Global Musicians
In pop culture, everything old gets recycled — and it's not just an American phenomenon. Reviewer Chris Nickson looks at a recent vogue among global artists for '80s cover tunes.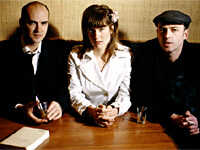 Artists and songs featured in this piece:
"Rock the Casbah," originally by The Clash, performed here by Rachid Taha from the album Tekitoi.
"Love Will Tear Us Apart," originally by Joy Division, performed here by Nouvelle Vague from the album Nouvelle Vague.
"Once in a Lifetime," originally by the Talking Heads, performed here by Wasis Diop from the album Toxu.
Related NPR Stories
NPR transcripts are created on a rush deadline by an NPR contractor. This text may not be in its final form and may be updated or revised in the future. Accuracy and availability may vary. The authoritative record of NPR's programming is the audio record.