Exhibit Paints Picture of Fallen U.S. Soldiers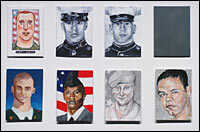 An art exhibit opens Thursday at Syracuse University in New York featuring a collection of 5-by-7-inch portraits of nearly 1,500 soldiers killed in Iraq.
The first 1,100 portraits, painted in various media, were created by students and faculty at California's College of Marin. Syracuse students and faculty, as well as local artists from the community, will paint several hundred additional portraits of fallen soldiers.
Guest:
Stephen Zaima, professor of painting in the College of Visual and Performing Arts at Syracuse University. Sponsors the project "To Never Forget: Faces of the Fallen," an exhibit which showcases portraits of 1,483 soldiers who were killed in Iraq and Afghanistan
Related NPR Stories
Web Resources