Chappy Hardy, Eating Right, Bite by Bite
Chappy Hardy, Eating Right, Bite by Bite
Hardy and Wayne Baquet
The writer grills the restaurateur on...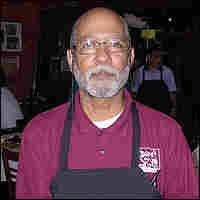 Restaurant critic Brett Anderson of New Orleans' Times Picayune describes Lil' Dizzy's as "the new breakfast-lunch place opened by one of the more familiar faces in New Orleans restaurants: Wayne Baquet, the last active restaurateur from New Orleans' first family of 'Creole soul.'"
Chappy Hardy is a writer, producer, and man-about-town in New Orleans. He's currently on a mission to eat his way across the southern United States, measuring the places he dines by delectability and cost-per-bite.
He speaks to Scott Simon from Lil' Dizzy's, a restaurant outside the French Quarter, about the eatery's daily buffet. The proprietor, Wayne Baquet, is the scion of a well-known New Orleans restaurant family, and carries the family tradition of "creole soul" cookery.
Related NPR Stories