The Life of the Land, Flowing Underground
The Life of the Land, Flowing Underground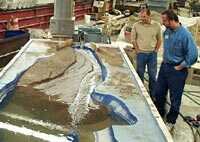 The mission of the U.S. Forest Service, as defined by its first director, was to manage for "the greatest good of the greatest number, in the long run." But as the service celebrates its 100-year anniversary, that mission has become more complex.
In this second of two reports on the health of the nation's forests for the National Geographic co-production of Radio Expeditions, Elizabeth Arnold takes us beneath the forest floor where the agency's scientists are studying a vast network of plumbing more valuable than the trees above.
Even at the top of Mackenzie Pass in Oregon's Willamette National Forest -- a barren lava field, without a tree in sight -- water is making its way downhill. Research scientist Gordon Grant is working to solve the mystery of how water moves through the Earth.
Grant and other scientists are studying how the rain and snowmelt on the pass makes its way down through the cracks of volcanic rock to a vast underground storage tank of water, with a volume the size of the Great Salt Lake.
The fact that water flows underground is not that surprising -- but Grant says the sheer amount of water, a primary source of Oregon's major rivers, is a puzzle in need of solving. Water is an increasingly scarce commodity in the U.S. West, and once that water comes out of the ground, it's the Forest Service's duty to protect it.
One secret aquifer Grant showed Arnold continues to pour out of the side of a mountain -- enough to easily take care of all of the water needs of the major metropolitan center.
"It's part of our mission to take a fabulous resource like this, which is providing water for everything downstream and to understand how it works," Grant says. "Can we cut the forest? Should we build a dam? Should we remove a dam? These become part and parcel of the mission."
Related NPR Stories
Web Resources