'Midival Times': Classic India Meets Club Beats
'Midival Times': Classic India Meets Club Beats
Producer Derek Rath speaks with Gaurav Raina and Tapan Raj, the duo behind the Indian electronica group MIDIval PunditZ, about their new album Midival Times. The group blends traditional Indian instruments with electronic beats.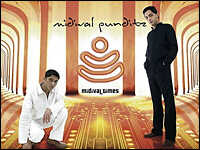 Related NPR Stories
ALEX CHADWICK, host:
Now to New Delhi, where classical Indian music blends with electronica in a new album, "Midival Times." The artists call themselves the Midival Punditz. They spoke with producer Derek Rath about this latest creation.
DEREK RATH reporting:
Gaurav Raina and Tapan Raj have been performing for a decade as the Midival Punditz, but they've known each other since third grade. It wasn't until college that their musical adventures began to take shape.
(Soundbite of music)
RATH: When the self-confessed tech-heads began thinking about the music they wanted to create for themselves, they naturally gravitated to synthesizers and electronics. Tapan Raj.
Mr. TAPAN RAJ (Midival Punditz): Yeah, we were tech-savvy both of us, so we knew how to put a little bit of electronics together and maybe make a song arrangement. So we thought, `OK, you know, let's have some fun and let's maybe buy some cheap gear and see if we can put some music together.'
(Soundbite of music)
RATH: The Midival Punditz's sound emerged from the duo's eclectic tastes that reached well beyond the traditions of India. Gaurav Raina.
Mr. GAURAV RAINA (Midival Punditz): Well, at that time, we were sort of listening to the new sound, harder sound of, like Chemical Brothers, Prodigy. We were trying to sort of replicate, say, Prodigy's track, but then we would just twist it with putting some Indian stuff on it. We found out what we wanted, in a way, by doing that, yeah.
RATH: And what they wanted was to include their roots in their music.
Mr. RAINA: This is something that was just coming naturally, so why do we want to push ourselves to make something which is, you know, completely Western and not even sounding so cool to our ears anymore?
(Soundbite of song)
Unidentified Woman #1: (Singing in foreign language)
RATH: It was not easy, but Gaurav said their first album, "Fabric," did turn ears at home and especially abroad, partly due to its electronic style.
Mr. RAINA: That was a more international-friendly album. This album, we have tried to go deeper into Indian classical, Indian folk, and then make that a little more centric and then base--give it a whole theme of, like, Western break beat or drum and bass or house.
(Soundbite of song)
Unidentified Woman #1: (Singing in foreign language)
RATH: The new CD, "Midival Times," is a more encompassing progression of Western and Eastern elements. It contains appearances from some major artists more associated with Indian classical music. Ustad Sultan Khan is a renowned virtuoso of the sarangi, a traditional stringed instrument, which he plays on this track, "Saathi," as well as providing the vocals.
(Soundbite of "Saathi")
Mr. USTAD SULTAN KHAN: (Singing in foreign language)
Mr. RAINA: In the beginning, the Indian classical scene, as such, is very, very academic. It's kind of scary, in a way, for people who don't belong in it. However, there were people like Sultan Khan Sahib and other people who were at the top who actually gave us a pat on the back and said, `We like your stuff, you know. It's very interesting.' They knew what we were doing because they recognized the Indian part.
(Soundbite of music)
RATH: This non-academic approach is appreciated internationally by an audience more familiar with dance club grooves than the finer points of Indian classical music. "Midival Times" is an example of diplomacy through music, but the Midival Punditz are aware that it takes both integrity and clarity of vision for the emerging global nation to get the message. Tapan Raj.
Mr. RAJ: Even now in India also, still find a lot of our stuff very alien, very new. But as and when the set progresses, I think the audience realizes what's happening, what we the artists are trying to do over here. We're trying to create a certain mood, so you can make out that this song was made when these guys were feeling really excited and they were jumping and down in the studio, and that would probably be kind of song later down in the set. To start it off, you know, there'll be romantic tracks or tracks which we are chilling out, when you're feeling good. It talks about our travels, it talks about our, you know, emotional state of mind. And I think down the line, as I said, the audience realizes that's the common thing, and that's when they get into the music.
(Soundbite of song)
Unidentified Woman #2: (Singing in foreign language)
RATH: For NPR News, I'm Derek Rath in Los Angeles.
(Soundbite of song)
Unidentified Woman #2: (Singing in foreign language)
CHADWICK: I'm Alex Chadwick. DAY TO DAY continues in just moment.
NPR transcripts are created on a rush deadline by an NPR contractor. This text may not be in its final form and may be updated or revised in the future. Accuracy and availability may vary. The authoritative record of NPR's programming is the audio record.