Hurricane Katrina: The Aftermath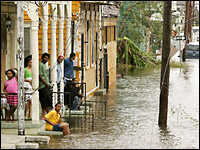 Louisiana
New Orleans faces rising floodwaters from breaches in at least two of the city's flood control levees. Mayor C. Ray Nagin estimated that 80 percent of the city was underwater.
&nbsp
Rescuers were plucking residents from rooftops and by Tuesday evening the city was making plans to evacuate the more than 10,000 people who had sought refuge in the Superdome.
The city of New Orleans says the water is unsafe to drink without boiling, and most of the city was without power or telephone. Hospitals in New Orleans were also evacuating patients.
&nbsp
The city of New Orleans says the water is unsafe to drink without boiling.
&nbsp
An estimated 370,000 customers were without power in southeast Louisiana, and the number was expected to rise during the day. Officials say it may be as long as two months before all power is restored.
Rescuers searched for survivors along the Gulf Coast as the damage from Hurricane Katrina continued to worsen a full day after the massive storm passed through the region. There are reports that dozens of people died in the hurricane, which came ashore with 145-mph winds.
Mississippi
As rescuers search for survivors, officials say at least 100 people have died in Harrison County. Maj. Rodney McGilverry of the Biloxi Police Department puts Biloxi's death toll at up to 40. At least 800,000 customers are without power.
&nbsp
The storm swept sailboats onto city streets in Gulfport and obliterated hundreds of waterfront homes, businesses, community landmarks and condominiums. More than 1,600 members of the Mississippi National Guard have been activated.
&nbsp
Approximately 8,500 people were staying in 79 shelters around the state.
Alabama
More than 790,000 people across the state were without power, and more than 5,300 were housed in shelters, according to an emergency official.
Floodwaters in Mobile reached more than 11 feet and a major bridge over the Mobile River was closed, struck by a detached oil-drilling platform.
Millions are without power and thousands are in shelters. Meanwhile, the storm's effects, which shut down oil platforms and refineries, are expected to boost already-high gasoline prices.
How To Help
The Response
&nbsp
The Federal Emergency Management Agency deployed emergency teams and resources to affected states even before the storm hit. FEMA said more than 50,000 people are in shelters in affected states from Louisiana to Georgia. New flooding in New Orleans led officials to plan an evacuation of the Superdome, where many had taken refuge.
&nbsp
More than 7,500 National Guard troops have been called up to aid in the recovery effort. Coast Guard and police helicopters have rescued hundreds of people from rooftops of flooded homes.
&nbsp
The American Red Cross plans to dispatch nearly 2,000 volunteers over the next few days to the afflicted area, along with 250 emergency response vehicles. President Bush cut his Texas vacation short by two days as he returns to Washington Wednesday to oversee recovery efforts.
Katrina Slams Infrastructure
&nbsp
Hurricane Katrina pummeled the vital infrastructure of many towns and cities in its path.
The storm left more than two million people from Louisiana to Florida's Panhandle without power, and phone and cellular service was also disrupted. Authorities say it could be two months before electricity is fully restored. Ten major hospitals in New Orleans have been running on emergency backup power.
&nbsp
Water began rising in the streets of New Orleans Tuesday after a break in a levee along a canal leading to Lake Pontchartrain and the failure of several pumps that protect the city, which is below sea level. Repair efforts were under way.
&nbsp
A giant water main broke in New Orleans, making it unsafe to drink the city's water without first boiling it.
&nbsp
Energy companies are still determining how much damage Hurricane Katrina has done to their pipelines, drilling platforms and refineries.
&nbsp
Many roads and highways remain blocked by debris, slowing rescue and repair operations.
The Impact on Oil
&nbsp
The shutdown of oil platforms, refineries and pipelines along the Gulf Coast drove energy prices sharply higher Tuesday, all but guaranteeing a surge in pump prices in the days ahead. Oil prices rose more than $3 a barrel Tuesday morning to climb above $70 a barrel.
&nbsp
President Bush is considering tapping U.S. emergency petroleum stockpiles to ease the storm's impact on affected refineries. Administration officials said the president is expected to authorize a loan of at least some oil from the nation's Strategic Petroleum Reserve.
&nbsp
The reserves would be used to provide refineries a temporary supply of crude oil to replace interrupted shipments from tankers or offshore oil platforms affected by the storm.
&nbsp
Katrina shut down oil and natural gas operations in the Gulf of Mexico, representing about 8 percent of U.S. refining capacity, or about 1 million barrels a day.
&nbsp
Energy Secretary Samuel W. Bodman said, "Over the next few days, we will continue to gain more information on the specific needs and then be able to make a better determination on how we can help."
Insurance Losses in the Billions
&nbsp
The cost of Hurricane Katrina to insurance companies could run anywhere from $9 billion to $26 billion, according to early estimates from companies who specialize in analyzing catastrophic damage.
&nbsp
At the high end, that would make Katrina more expensive than the previous record-setting storm, Hurricane Andrew, which caused some $21 billion in insured losses in 1992 to property in Florida and along the Gulf Coast.
&nbsp
Last year, the four separate hurricanes that slammed Florida and other East Coast states cost insurers nearly $23 billion. The most devastating, Hurricane Charley, racked up insured losses of $7.5 billion last August.
&nbsp
State Farm and Allstate, the two largest property and casualty insurance companies covering the South, said they have teams ready to move into the devastated region.
"We have to wait for civil authorities to open areas so we can get in and assess damages," State Farm Spokesman Phil Supple said.
&nbsp
Robert Hartwig, chief economist with the Insurance Information Institute in New York, said "what we're looking at is one of the top two or three most expensive storms in U.S. history."
Effect on the Environment
&nbsp
The levees that helped protect New Orleans from the full fury of Hurricane Katrina may have also contributed to the destruction.
&nbsp
The vast series of levees in southern Louisiana harnessed the Mississippi River and helped make the city one of the world's busiest ports and a key center of the U.S. oil and gas industry. But the levees also prevent the river from naturally spreading sediment around its delta.
&nbsp
Louisiana is slowly sinking into the encroaching Gulf of Mexico, losing about 24 square miles of coastal marshland and barrier islands every year. Those marshes and islands act as nurseries to many species of animals, as well as help slow storms as they approach New Orleans.
&nbsp
Computer models suggest that further loss of those buffer zones will boost the height of future storm surges and waves by several feet. And ironically, the species that rely on those islands and marshes might rebound more quickly than the cities along the shore.
&nbsp
In the Florida Everglades, where Katrina first hit shore before turning northwest, scientists surveying the environmental damage say the storm washed away sea turtle eggs and drowned alligators nests, but both species will likely rebound.
Sources: The Associated Press, American Red Cross, FEMA, News Reports