'Higher Ground,' a Show for Hurricane Relief
Highlights of the Night
Renee Fleming, 'Amazing Grace'
Aaron Neville, 'Go to the Mardi Gras'
Laurence Fishburne on New Orleans' History
Bette Midler, 'Is That All There Is?'
Meryl Streep Reads an 1877 Tribute to New Orleans
Diane Krall, 'Basin Street Blues'
Paul Simon, 'That Was Your Mother'
Dianne Reeves, 'The House I Live In'
Norah Jones, 'I Think It's Gonna Rain Today'
James Taylor, 'Never Die Young'
Cassandra Wilson, 'Come Sunday'
Hear the Whole Show
Hour 1: Marsalis, Hancock
Hour 3: Simon, Jones, Costello
Hour 4: Taylor, Blanchard
Organized by Wynton Marsalis and graced by a bevy of outstanding performers — Norah Jones, Paul Simon, Elvis Costello, James Taylor, Dianne Reeves, Robin Williams and Bill Cosby, to name but a few — the "Higher Ground" concert held Saturday at New York's Rose Theater put the full force of many of America's most talented performers behind hurricane relief.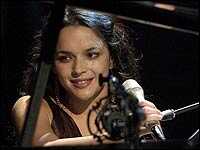 The concert was presented by NPR Music, WBGO Jazz 88 in Newark, N.J., and Jazz from Lincoln Center. The benefit also included an auction, with all proceeds going to aid victims of Katrina.
Laurence Fishburne hosted the five-hour extravaganza. NPR's Korva Coleman and WBGO's Gary Walker anchored the radio broadcast with special guest commenator Nick Spitzer, a New Orleans resident and host of American Routes. PBS televised the event with Performance Today host Fred Child.
Hour One
Wynton Marsalis Septet: 'Ain' No'
Renee Fleming with Mark O'Connor and Eric Reid: 'Amazing Grace'
Shirley Caesar: 'You're Next for a Miracle,' 'He's Working It Out for You,' 'This Joy'
Aaron Neville: 'Go to the Mardi Gras'
Herbie Hancock: 'Eye of the Hurricane'
Wynton Marsalis & Lincoln Center Jazz Orchestra
Hour Two
Bette Midler, Lincoln Center Jazz Orchestra: 'Is That All There Is?'
Abbey Lincoln: 'For All We Know'
Joe Lovano: 'Blackwell's Message'
Diana Krall: 'Basin Street Blues'
Marcus Roberts: 'New Orleans' Blues"
Hour Three
Paul Simon: 'That Was Your Mother'
Dianne Reeves: 'The House I Live In'
Irvin Mayfield, Ronald Markham: 'Just a Closer Walk With Thee'
Norah Jones: 'I Think It's Gonna Rain Today'
McCoy Tyner: 'Trane-Like'
Elvis Costello and Allen Toussaint: 'Freedom for the Stallion'
Hour Four
Buckwheat Zydeco: 'I'm Gonna Love You Anyway'
Wynton Marsalis Septet: 'Dippermouth Blues'
James Taylor: 'Never Die Young'
Toni Morrison reading various passages from her novel Jazz
Jordan Family: 'Here's to Life'
Terence Blanchard: 'Over There'
Marsalis Family: 'Twelve's It'
Hour Five
Jon Hendricks: 'This Love of Mine,' 'Tell Me the Truth'
Peter Cincotti: 'Bring Back New Orleans'
Lincoln Center Afro-Latin Jazz Orchestra: 'Havana Blues with Salt Peanuts'
Cassandra Wilson w/Lincoln Center Jazz Orchestra and Mark O'Connor, violin: 'Come Sunday'
Closing: Music from Duke Ellington's 'New Orleans Suite'
Related NPR Stories
Web Resources
Numbers to Call
1-800-HELP-NOW
1-800-435-7669
1-800-SAL-ARMY
1-800-725-2769