At Home with Poet Laureate Ted Kooser
At Home with Poet Laureate Ted Kooser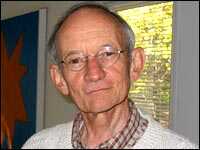 Hear the Poet
Listen to selected Ted Kooser poems read by him at the recent opening of the Library of Congress' 2005-06 literary season.
"Barn Owl" is from Weather Central, University of Pittsburgh Press, 1994, and used here by permission of the author. The other poems above are Copyright 2005 by Ted Kooser and used here by permission of the author.
When Ted Kooser sits down to write a poem early each morning, he knows that the chances are low that he'll find true inspiration.
"I've got an armchair down in the living room where I prop a cup of coffee on one arm and set my notebook on my lap," he says. "And I just sit there under the floor lamp early in the morning and work and see what happens. Nine days out of 10, nothing good comes of it at all. Maybe on the tenth day, if I'm lucky, some little thing will start a poem."
Some of those poems, written in Kooser's home in rural Nebraska, turn out pretty well. Kooser is in his second year as the nation's poet laureate, and won the Pulitzer Prize this spring.
"I feel that I'm really fortunate if at the end of a year, after writing every day, I have a dozen poems I care about," he says. "That's plenty. I don't have great expectations for what happens in those morning sessions. But, you know, if you're not there writing, it's never going to happen."
Kooser grew up in Ames, Iowa, and moved to Lincoln, Neb., for graduate school in poetry.
He worked for life insurance companies for 35 years as an underwriter, and an executive. He'd write poems before dawn, before he left for the office.
Six years ago he retired. But at age 66, there's still no time to fill his day with writing.
The business of being poet laureate has him traveling the country to conduct workshops and readings to broaden public interest in the art of poetry. He's started a free weekly column for newspapers that introduces works written by contemporary American poets.
Over the course of this next year, NPR will have more conversations with Kooser about the craft and the pleasures of poetry.
Read some excerpts of Ted Kooser's poetry... and prose:
&nbsp
Tattoo
&nbsp
What once was meant to be a statement --
a dripping dagger held in the fist
of a shuddering heart -- is now just a bruise
on a bony old shoulder, the spot
where vanity once punched him hard
and the ache lingered on. He looks like
someone you had to reckon with,
strong as a stallion, fast and ornery,
but on this chilly morning, as he walks
between the tables at a yard sale
with the sleeves of his tight black T-shirt
rolled up to show us who he was,
he is only another old man, picking up
broken tools and putting them back,
his heart gone soft and blue with stories.
&nbsp
From Delights & Shadows, published by Copper Canyon Press, 2004, and used here by permission of the author.
&nbsp
&nbsp
Dishwater
&nbsp
Slap of the screen door, flat knock
of my grandmother's boxy black shoes
on the wooden stoop, the hush and sweep
of her knob-kneed, cotton-aproned stride
out to the edge and then, toed in
with a furious twist and heave,
a bridge that leaps from her hot red hands
and hangs there shining for fifty years
over the mystified chickens,
over the swaying nettles, the ragweed,
the clay slope down to the creek,
over the redwing blackbirds in the tops
of the willows, a glorious rainbow
with an empty dishpan swinging at one end.
&nbsp
From Delights & Shadows, published by Copper Canyon Press, 2004, and used here by permission of the author.
&nbsp
&nbsp
Selecting a Reader
&nbsp
First, I would have her be beautiful,
and walking carefully up on my poetry
at the loneliest moment of an afternoon,
her hair still damp at the neck
from washing it. She should be wearing
a raincoat, an old one, dirty
from not having money enough for the cleaners.
She will take out her glasses, and there
in the bookstore, she will thumb
over my poems, then put the book back
up on its shelf. She will say to herself,
"For that kind of money, I can get
my raincoat cleaned." And she will.
&nbsp
From Flying at Night, University of Pittsburgh Press, 2005, and used here by permission of the author.
&nbsp
&nbsp
So This Is Nebraska
&nbsp
The gravel road rides with a slow gallop
over the fields, the telephone lines
streaming behind, its billow of dust
full of the sparks of redwing blackbirds.
&nbsp
On either side, those dear old ladies,
the loosening barns, their little windows
dulled by cataracts of hay and cobwebs
hide broken tractors under their skirts.
&nbsp
So this is Nebraska. A Sunday
afternoon; July. Driving along
with your hand out squeezing the air,
a meadowlark waiting on every post.
&nbsp
Behind a shelterbelt of cedars,
top-deep in hollyhocks, pollen and bees,
a pickup kicks its fenders off
and settles back to read the clouds.
&nbsp
You feel like that; you feel like letting
your tires go flat, like letting the mice
build a nest in your muffler, like being
no more than a truck in the weeds,
&nbsp
clucking with chickens or sticky with honey
or holding a skinny old man in your lap
while he watches the road, waiting
for someone to wave to. You feel like
&nbsp
waving. You feel like stopping the car
and dancing around on the road. You wave
instead and leave your hand out gliding
larklike over the wheat, over the houses.
&nbsp
From Flying at Night, University of Pittsburgh Press, 2005, and used here by permission of the author.
&nbsp
&nbsp
From 'Local Wonders'
&nbsp
The following is an excerpt from Kooser's book of prose, Local Wonders: Seasons in the Bohemian Alps:
&nbsp
The Bohemian Alps is a worn place in the carpet of grass we know as the Great Plains, the spot where the glaciers wiped their snowy galoshes coming in and out.
&nbsp
Two miles from our house, some of that carpet's cordy backing shows through. It's a limestone quarry, and I like to go over there and sit for a while in the dusty lap of time. There's usually nobody around because the quarry is used only when crushed rock is needed, and stillness pools like rainwater.
&nbsp
I like the exposed layers of rock with their reliable order, thousands of years stacked on shelves like old courthouse ledgers, the oldest on the bottom and the most recent on top, seashells stuck between the pages like bookmarks marking passages in time, an occasional fish pressed flat and black like the tongue of a shoe.
&nbsp
I like the girlish cottonwood saplings, trying to find a life for themselves near the rain pools, persuaded by the slightest wind. I like the iron clutter of labor, the rusty rock-grinding machinery, the bent-up bulldozers baking in the sun, and the broken-down trucks wearing their shattered reading glasses.
&nbsp
The digging there started a long time ago, a couple hundreds yards east of the road, and over the years it gradually moved west, following the veins of the most accessible stone. When the hole got up against the gravel road, the county bent the road out and around it. That was at least thirty years ago, a temporary fix that soon became permanent.
&nbsp
There've been Road Closed signs there ever since, but the road isn't closed. Or, let's say, the straight road is closed, the curved road is open. Though it is "temporary," good-sized trees have grown up along it, anchoring it in place.
&nbsp
It's one of the few curving roads in a county where every lane and village sidewalk is laid out on a north-south, east-west grid, so it's a treat to sweep around that curve in your pickup, the centrifugal force pushing you over against your door, your Michelin Wild Country tires throwing up a plume of limestone dust.
&nbsp
Engineers prefer things straight. The best road, they think, is the shortest. It was ever so. No farmer would want to take horse and wagon out of the way to get eggs to Germantown before the train to Lincoln pulled away on the one-track line. Leave straight roads straight.
&nbsp
Washington Irving, in his book Salmagundi, emphasizes the good effect of having roads laid out on a grid, and road builders in my part of the world have followed his advice:
&nbsp
I am clearly of the opinion that this humdrum regularity has a vast effect on the character of its inhabitants, and even on their looks, "for you will observe," writes Likcum, "that they are an honest, worthy, square, good-looking, well-meaning, regular, uniform, straight-forward, clockwork, clear-headed, one-like-another, salubrious, upright kind of people, who always go to work methodically, never put the cart before the horse, talk like a book, walk mathematically, never turn but at right angles, think syllogistically… whereas the people of New York -- God help them -- tossed about over hills and dales, through lanes and alleys, and crooked streets, -- continually mounting and descending, turning and twisting -- whisking off at tangents, and left-angle triangles, just like their own queer, odd, topsy-turvy, rantipole city, are the most irregular, crazy-headed, quicksilver, eccentric, whimwhamsical set of mortals that ever were jumbled together in this uneven, villainous, revolving globe."
&nbsp
God knows we wouldn't want to be thought eccentric or whimwhamsical in the Bohemian Alps, but the world needs to understand that once we bend a road around a quarry, it's going to stay bent. Forever.
&nbsp
On the high ground of the eastern rim, a young couple has moved into a hundred-year-old frame house. You can see it for miles. The older half of the quarry is within their property line. They have a couple of boys, maybe seven and nine years old. I was there the other day to drop off an antique bed their mother had bought from me, and I told the boys about the sharks' teeth and drew a picture of one so they'd know what to look for. Their mother cheerfully said to me before I drove away, "You know, they told us they're going to straighten this road again."
&nbsp
From Local Wonders: Seasons in the Bohemian Alps, published by University of Nebraska Press, 2003, and used here by permission of the author.
Related NPR Stories
Web Resources
Delights & Shadows
Paperback, 87 pages |
purchase
Buy Featured Book
Title

Delights & Shadows

Author

Ted Kooser
Your purchase helps support NPR programming. How?
Local Wonders
Seasons in the Bohemian Alps
Paperback, 153 pages |
purchase
Buy Featured Book
Title

Local Wonders

Subtitle

Seasons in the Bohemian Alps

Author

Ted Kooser
Your purchase helps support NPR programming. How?
Flying At Night
Poems, 1965-1985
Paperback, 142 pages |
purchase
Buy Featured Book
Title

Flying At Night

Subtitle

Poems, 1965-1985

Author

Ted Kooser
Your purchase helps support NPR programming. How?