Devendra Banhart's 'Cripple Crow'
Set List
Music played by Devendra Banhart for 'World Cafe':
"Quedateluna"
"Heard Somebody Say"
"I Feel Just Like a Child"
Cripple Crow is Devendra Banhart's new release of artful alternative folk songs. His distinctive voice has drawn comparisons to a disparate list that includes Billie Holiday and Tiny Tim.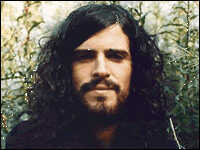 Banhart's music blends West Coast grooves with a lo-fi sound that gives his lyrics sincerity and authority. The results lie somewhere on the arc from Bob Dylan to Beck. Songs like "I Feel Just Like a Child," while steeped in a sense of innocence, focus on questions any adult would find difficult to answer.
Cripple Crow is the latest stopping point for Banhart, who has spent his life on the move: Texas; Venezuela; San Francisco; Los Angeles; Paris; New York. Now he's on the road again, playing music.
Related NPR Stories
Web Resources