Spiffy: 'The Complete Calvin and Hobbes'
Spiffy: 'The Complete Calvin and Hobbes'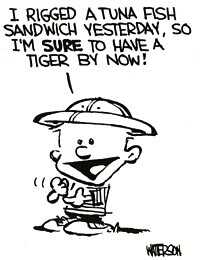 Bill Watterson/ Andrews McMeel Publishing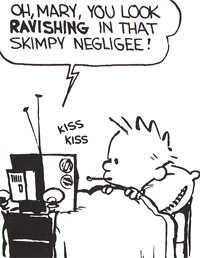 Bill Watterson/Andrews McMeel Publishing
An Appreciation
'Day To Day' animation critic Charles Solomon weighs-in on the ultimate Calvin and Hobbes anthology.
On Nov. 18, 1985, a new comic strip made its newspaper debut: Calvin and Hobbes. It featured a small boy wearing a pith helmet who announced that day that he was going to check his tiger trap. The boy was Calvin and the tiger snared in the last panel -- happily snacking on the bait -- was Hobbes.
For 10 years the duo captured the imaginations of adults and children alike. Then, in 1995, cartoonist Bill Watterson announced his retirement at the age of 37.
Now the definitive Calvin and Hobbes collection has been released. The three-volume set is fittingly called The Complete Calvin and Hobbes. It features every one of the 3,160 strips Watterson produced between 1985 and Dec. 31, 1995.
Lee Salem worked with Bill Watterson on those cartoons. He's editor of the Universal Press Syndicate and he spoke with Renee Montagne about the development of Calvin and Hobbes.
Bill Watterson -- not one for the publicity circuit -- did offer his thoughts on the characters he created when The Calvin and Hobbes Tenth Anniversary Book was published. The following are his descriptions of characters appearing in the strip:
Character descriptions by Bill Watterson from The Calvin and Hobbes Tenth Anniversary Book. Courtesy of Andrews McMeel Publishing.
Calvin: An Outlet
Calvin is named for a sixteenth-century theologian who believed in predestination. Most people assume that Calvin is based on a son of mine, or based on detailed memories of my own childhood. In fact, I don't have children, and I was a fairly quiet, obedient kid -- almost Calvin's opposite. One of the reasons that Calvin's character is fun to write is that I often don't agree with him.

Calvin is autobiographical in the sense that he thinks about the same issues that I do, but in this, Calvin reflects my adulthood more than my childhood. Many of Calvin's struggles are metaphors for my own. I suspect that most of us get old without growing up, and that inside every adult (sometimes not very far inside) is a bratty kid who wants everything his own way. I use Calvin as an outlet for my immaturity, as a way to keep myself curious about the natural world, as a way to ridicule my own obsessions, and as a way to comment on human nature. I wouldn't want Calvin in my house, but on paper, he helps me sort through my life and understand it.
Hobbes: Subjective Reality
Named after a seventeenth-century philosopher with a dim view of human nature, Hobbes has the patient dignity and common sense of most animals I've met. Hobbes was very much inspired by one of our cats, a gray tabby named Sprite. Sprite not only provided the long body and facial characteristics for Hobbes, she also was the model for his personality. She was good-natured, intelligent, friendly, and enthusiastic in a sneaking-up-and-pouncing sort of way. Sprite suggested the idea of Hobbes greeting Calvin at the door in midair at high velocity.

With most cartoon animals, the humor comes from their humanlike behavior. Hobbes stands upright and talks of course, but I try to preserve his feline side, both in his physical demeanor and his attitude. his reserve and tact seem very catlike to me, along with his barely contained pride in not being human. Like Calvin, I often prefer the company of animals to people, and Hobbes is my idea of an ideal friend.

The so-called "gimmick" of my strip -- the two versions of Hobbes -- is sometimes misunderstood. I don't think of Hobbes as a doll that miraculously comes to life when Calvin's around. Neither do I think of Hobbes as the product of Calvin's imagination. Calvin sees Hobbes one way, and everyone else sees Hobbes another way. I show two versions of reality, and each makes complete sense to the participant who sees it. I think that's how life works. None of us sees the world exactly the same way, and I just draw that literally in the strip. Hobbes is more about the subjective nature of reality than about dolls coming to life.
Calvin's Parents: Realistic
I've never given Calvin's parents names, because as far as the strip is concerned, they are important only as Calvin's mom and dad. Calvin's dad has been rumored to be a self-portrait. All my characters are half me, so it's true in some ways, but Calvin's dad is also partly a satire of my own father. Any strip about how suffering "builds character" is usually a verbatim transcript of my dad's explanations for why we were all freezing, exhausted, hungry, and lost on camping trips. These things are a lot funnier after twenty-five years have passed.

Calvin's mom is the daily disciplinarian, a job that taxes her sanity, so I don't think we get to see her at her best. I regret that the strip mostly shows her impatient side, but I try to hint at other aspects of her personality and her interests by what she's doing when Calvin barges in.

... We usually only see Calvin's parents when they're reacting to Calvin, so as secondary characters, I've tried to keep Calvin's parents realistic, with a reasonable sense of humor about having a kid like Calvin. I think they do a better job than I would.
Susie Derkins: Smart
Susie is earnest, serious, and smart -- the kind of girl I was attracted to in high school and eventually married. "Derkins" was the nickname of my wife's family's beagle ... I suspect Calvin has a mild crush on her that he expresses by trying to annoy her, but Susie is a bit unnerved and put off by Calvin's weirdness. This encourages Calvin to be even weirder, so it's a good dynamic. Neither of them quite understands what's going on, which is probably true of most relationships...
Related NPR Stories
Web Resources
The Complete Calvin And Hobbes
Paperback, 4 v. |
purchase
Buy Featured Book
Title

The Complete Calvin And Hobbes

Author

Bill Watterson
Your purchase helps support NPR programming. How?