Cookbooks to Give and Get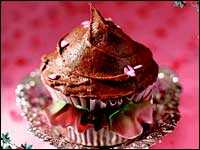 Holidays aren't just the time of year when we get together with friends, family and loved ones -- if only it were that simple. Instead, this is also the season to celebrate tradition and rituals. Fortunately for my family, that means food.
Start Your Ovens...
Get the recipes mentioned in this column.
When the Swanson flock descends on my parents' home, we head straight for the kitchen. There, new recipes are sampled and critiqued alongside family favorites, must-have culinary gadgets are circulated and admired, and new technical prowess and tips are showcased.
Save, Print This List
The demonstrations range from advanced techniques learned in exotic foreign cooking classes to shortcuts picked up while watching television. A few years back, my dad started keeping a scrap bowl right next to his cutting board –- an idea he got while watching Rachael Ray one evening. We hear about that time saver every year. I'll admit it, thanks to Ms. Ray, I'm now a scrap bowl convert.
Gift Gadgets and Good Books
The gift-giving theme in our house? No surprise. Here comes Santa Claus, and he is loaded with culinary loot: digital thermometers, hand blenders, beer machines, coveted Le Creuset pieces, breadmakers, pots, pans, knives, and of course, countless cookbooks. I have the same conversation with my mom each year when we talk about gift ideas. She protests "no more cookbooks for your father, he has enough." Her protests go unheeded.
Cookbooks are central to our holiday ritual. After the commotion of exchanging gifts, eating brunch, and looking through the stack of holiday cards, everyone loves to sit around the fireplace with bellies full, enticed by the fresh batch of cookbooks.
Lucky for us all, a delicious selection of cookbooks are packing bookstore shelves this holiday season, and to help cut through the sheer number of them, here is a roundup of the ones I'm excited to share.
Heidi's Top Ten
I'll start off by telling you about one of my favorite books of the season. This is the book I suspect you will find nestled next to my stove lovingly splattered with sauces and kissed with grubby fingerprints in the months to come. Washoku is a wonderful book by Elizabeth Andoh focused on Japanese home-style cooking. Her selection of deliciously authentic, yet approachable recipes coupled with a detailed look at the washoku pantry make this the Japanese cookbook I've been waiting for. Be sure to try the Green Beans Tossed in Creamy Sesame Miso.
Another cookbook I've fallen for is The Soup Peddler's Slow & Difficult Soups by David Ansel, and not just because it's a precious, economic, little paperback that brims with a year's worth of soup ideas. More because it is the story of a person who embraced his lucky soup ladle, began delivering soup to his friends and local community in Austin, and turned it into a thriving business. Slow and difficult isn't referring to the recipes themselves, it is more about the way the soup was originally created and delivered -- one quart at a time, from a trailer being towed behind a people-powered bike. Fall in love with the soup peddler's story and his Armenian Apricot Soup, or raid your pantry for the common ingredients in the simple, but delicious Chompy-Chomp Black Bean Soup.
I went to visit Paula Wolfert recently on a magazine assignment and encountered a fantastic show-and-tell. She showed me all sorts of things -- her Spanish fly in a jar, an extensive clay pot and tagine collection, and the thing I was most excited by -- a baby-fresh copy of her newly revised classic, The Cooking of Southwest France. Aside from the fact that this volume is widely considered the definitive work on the cuisine of this region, it also happens to be a book full of recipes perfect for this time of year. Rich, hearty, rustic ragouts and cassoulets are intertwined with tales of small villages, old chateaus, and friends both new and old. You will find 60 additional recipes in this volume and if me championing the book isn't quite enough, it might comfort you to know that all the heavies enthusiastically blurbed the book as well; Alice Waters, Thomas Keller, Judy Rodgers, and Jeffrey Steingarten. Two recipes I've enjoyed very much are the Terrine aux Fromages (Cheese Terrines) and the Straw Potato Cake Stuffed with Braised Leeks (Paillaisson de Pommes de Terre aux Poireaux).
Chronicle Books always puts out a nice selection of holiday-related releases -- gifty titles that make fun stocking stuffers or hostess gifts. Bring their Holiday Cocktails Deck to a party with the ingredients for the Hot Buttered Apple Cider or ring in New Year's Eve with Silver Bell Martinis. Their festive Holiday Baking paperback is also one to look for whether you are after traditional holiday recipes like gingerbread cookies, or something a little less expected like a Backyard Apple Tree Crisp or Boxing Day Scones with Warm Strawberry Jam.
Ready to tackle a dinner party, but in need of some inspiration? Fellow San Franciscan Peggy Knickerbocker has a menu-based cookbook out titled Simple Soirees. The seasonal menus are dinner party-focused and range anywhere from a Mediterranean Market Fish Dinner or a Cracked Crab Lunch to an Old-Fashioned Family Thanksgiving. Be sure to try the deliciously earthy Wild Mushroom Risotto with Truffles and don't miss the Winter Greens with Sherry Vinaigrette and Pine Nuts.
Fete Accompli! isn't a new release this season, but I'm including it because it has a lot of hip, fun and fast ideas and recipes for creative entertaining. A great party primer for the 20-somethings on your gift list, the book provides all sorts of helpful handholding -- great whether you are trying to produce a party with $50 or $50,000. The book is packed full of cheat sheets that outline all the little things that can throw an amateur party planner for a loop, everything from what drinks to serve in which glasses and to figuring out how much food and drink to purchase in the first place. The book closes with a section of quick and easy recipes culled from trendy/famous establishments like the Chateau Marmont Kir Royale or the Stein Erickson Lodge Cheese Fondue.
A few adventurous friends swear by the Roasted Chicken charred with Rosemary featured in the beautifully illustrated Michael Ableman book, Fields of Plenty. After roasting the chicken you take it out over a grill and light the rosemary on fire, allowing the chicken to be enveloped by the smoky branches, emparting a distinct wood-fire oven-ish flavor to the chicken. The somewhat more conventional Winter Root Mash is also a hit. Ableman and his son take us on a cross-country road trip of artisinal American farms and punctuate the book with the wonderful recipes they garner. You get the sense that just about every recipe in this book is a well-loved favorite -- fresh, homey, unfussy fare rooted in the land the ingredients came from.
What good is a cookbook round-up without a chocolate pick? My sweet tooth hurts just thinking about Lisa Yockelson's new mammoth, 496-page Chocolate Chocolate. Thanks to photography by Ben Fink, the book is pretty enough to live a life right at home on the coffee table, but you'd be better off putting it to good use in the kitchen. It is full of crowd-pleasers like Dark Chocolate Waffles and Chocolate Fudge Scones, and last I heard is already in its third printing.
For those of you who helped Mark Bittman sell close to 2 million copies of his book, How to Cook Everything, he is now ready to take you on a globe-trotting adventure with The Best Recipes in the World. If you are interested in trying your hand at Thai food one night and Caribbean the next -- you will appreciate Bittman's approachable style of recipe writing as he strives to put some stamps on your culinary passports. On my list to try: the Loukoumades (Honey and Cinnamon Fritters from Greece) and Russian-inspired Mushroom Caviar.
As the holidays wind down people start thinking a bit more clearly about healthy eating and resolutions. Have a look at Raw Food Real World by Matthew Kenney and Sarma Melngailis. Don't be deterred because it is a "raw" cookbook. Many of the recipes in this knock-out book are creative and delicious. This time of year the Cinnamon Maple Pecan Milk or Celeriac and Green Apple Soup with Black Truffles will fit right into any gourmet repertoire.
It is easy to get overwhelmed by the avalanche of new books and recipes that hit this time of year. Use this list as a starting point for inspiration or have fun with all the other ways you can broaden your culinary horizons. Give a cooking class gift certificate to your friends and take a class together, or plan a holiday potluck/recipe-swap party where everyone brings a favorite dish and printouts of their recipe to trade. There is nothing more welcoming than them smell of warm spices on the stove, a hearty gratin roasting in the oven, and a fire in the fireplace to welcome the holidays. Cold weather brings out the best in every cook, so fire up your stove, gather your friends, choose a few cozy, comforting recipes, and enjoy the holidays.
About the Author
Heidi Swanson is the voice of the food blog 101cookbooks. She is also the author of Cook 1.0: A Fresh Approach to the Vegetarian Kitchen.
Buy Featured Book
Title

Washoku

Author

Elizabeth Andoh, Leigh Beisch
Your purchase helps support NPR programming. How?
The Soup Peddler's Slow & Difficult Soups
Buy Featured Book
Title

The Soup Peddler's Slow & Difficult Soups

Author

David Ansel, Liza Ferneyhough
Your purchase helps support NPR programming. How?
The Cooking of Southwest France
Buy Featured Book
Title

The Cooking of Southwest France

Author

Paula Wolfert
Your purchase helps support NPR programming. How?
Buy Featured Book
Title

Holiday Cocktails Deck

Author

Jessica Strand
Your purchase helps support NPR programming. How?
Buy Featured Book
Title

Holiday Baking

Author

Sara Perry, Leigh Beisch
Your purchase helps support NPR programming. How?
Buy Featured Book
Title

Simple Soirees

Author

Peggy Knickerbocker, Diane Johnson, Christopher Hirsheimer
Your purchase helps support NPR programming. How?
Buy Featured Book
Title

Fete Accompli!

Author

Lara Shriftman, Elizabeth Harrison, Karen Robinovitz
Your purchase helps support NPR programming. How?
Buy Featured Book
Title

Fields of Plenty

Author

Michael Ableman
Your purchase helps support NPR programming. How?
Buy Featured Book
Title

Chocolate Chocolate

Author

Lisa Yockelson, Ben Fink
Your purchase helps support NPR programming. How?
The Best Recipes in the World
Buy Featured Book
Title

The Best Recipes in the World

Author

Mark Bittman
Your purchase helps support NPR programming. How?
Buy Featured Book
Title

Raw Food, Real World

Author

Matthew Kenney, Sarma Melngailis, Jen Karetnick
Your purchase helps support NPR programming. How?