Vinyl Archivist Gilles Peterson 'Digs America'
Vinyl Archivist Gilles Peterson 'Digs America'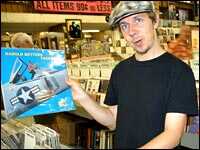 Gilles Peterson is something of a legend in the tight-knit community of DJs who revere the vinyl LPs and turntables of a bygone era.
From 'Brownswood U.S.A.'
Hear rare tracks by American groups featured on Peterson's latest compilation CD:
Ellen McIlwaine: 'Higher Ground'
47 x Its Own Weight: 'March of the Goober Woobers'
He makes his living collecting LPs and compiling rare tracks onto CDs. He's also the DJ of a long-running radio show on BBC -- and something of a "tastemaker" for other DJs in the U.K. and Europe.
Now Peterson is taking his act across the Atlantic with a new compilation CD, Gilles Peterson Digs America: Brownswood U.S.A.
He's collected so many disks over the years that he had to move his family to a new home in England -- his first home has become a warehouse for his records, a shrine to analog technology called Brownswood.
Peterson's eclectic approach to collecting enables him to recognize a jewel when he finds one. "Many factors make records collectable," says reporter Derek Rath. "The artist, the label, the number of records pressed, and historic significance."
And Peterson's encyclopedic knowledge of the funk and soul genre makes diving into LP bins at used record stores an adventure. Some rare singles sell for thousands of dollars.
Related NPR Stories
Web Resources