Consumers Face Higher Credit Card Payments in 2006
Consumers Face Higher Credit Card Payments in 2006
Banks are raising their minimum monthly payments in January, a change intended to protect consumers from piling up credit card debts that can last for decades. But the higher minimums, along with interest rates that can be raised for late payments, mean consumers could be facing bigger credit card bills next year.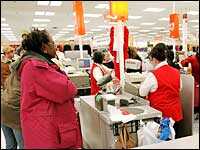 STEVE INSKEEP, host:
Come January, your credit card payment may be going up, not because of your holiday spending, although that may be part of it, but because banks are raising their minimum monthly payments. NPR's Wendy Kaufman reports on the new minimums and some other things you should know about your credit card.
WENDY KAUFMAN reporting:
The new minimum payments have been in the works for three years. As consumer debt grew, government regulators became concerned that defaults would grow as well. Regulators told banks that the monthly minimum should cover interest, any fees or extra charges and at least 1 percent of the principal amount. In the past, says attorney Gail Hildebrand of Consumers Union, the minimum payment was sometimes so low that it didn't even cover the interest and fees for the month.
Ms. GAIL HILDEBRAND (Consumers Union): Under the old minimum payment rules, a $10,000 debt would've taken 40 years to pay off.
KAUFMAN: And that, she says, assumes that no new charges were made.
Ms. HILDEBRAND: Under the new minimum payment rules, it will take about 14 years to pay off a $10,000 credit card debt. So you still want to watch those debt levels.
KAUFMAN: Some banks have already adopted the new minimum payments, but virtually all banks will have them in place by the end of the year. In general, banks apply credit card payments first to late fees, over-limit fees, interest, any interest insurance costs, and only then to the principal balance. While all this information is disclosed to consumers, it's often buried in the fine print. Also buried in the tiny type of some credit card contracts is language that allows bank A to raise your interest rate if you fall behind in your payments to bank B. The reason, says Keith Leggett, senior economist for the American Bankers Association, is that your credit risk has gone up.
Mr. KEITH LEGGETT (American Bankers Association): You know, the key issue is if you've defaulted with regard to one creditor, this increases the probability that you are going to default or become delinquent with regard to another creditor.
KAUFMAN: That interest rate can jump from about 15 percent to as much as 30 percent. Not all credit card companies employ this practice, and even if they do, consumers can pay off the existing balance at the old rate if they stop using the card completely.
Americans now have more than 500 million credit cards, and some consumer advocates believe that many lenders have made it too easy for consumers to get more credit than they can handle. But Fritz Elmendorf of the Consumer Bankers Association suggests is not the industry's job to deny credit to those who want it.
Mr. FRITZ ELMENDORF (Consumer Bankers Association): There is an ongoing debate, you know, about whether or not some people should get credit, but it has been the policy of the land that credit should be widely available.
KAUFMAN: And the Suburban Seattle office of Consumer Counseling Northwest, a nonprofit consumer assistance and education group, staffers are bracing for an onslaught of visitors early next year. CEO Charley Helms says overspending on holiday shopping won't be the only factor. Adjustable rate mortgages are going up, as are interest rates and monthly minimums on credit cards.
Mr. CHARLEY HELMS (CEO, Consumer Counseling Northwest): There's going to be a lot more financial pressure on people and, unfortunately, a lot more people failing. They can't keep up now. And it's only going to get worse in 2006.
KAUFMAN: Both the banking industry and consumer advocates say that if consumers find themselves getting into financial trouble, they should contact their creditors immediately. Often payment plans can be worked out that will benefit both the consumer and the lender. Wendy Kaufman, NPR News, Seattle.
INSKEEP: This is NPR News.
NPR transcripts are created on a rush deadline by an NPR contractor. This text may not be in its final form and may be updated or revised in the future. Accuracy and availability may vary. The authoritative record of NPR's programming is the audio record.