October 11: The Laws of Disappearing Legroom
Important travel tip: If you don't understand the language, at least know the exchange rate...
In the Beijing airport, an Eastern China airline receptionist helped me acquire a 'building tax' receipt. The tax was 50 yuan (about $6 U.S. dollars) — I wasn't sure of the exchange rate and gave her $20. I thought for a moment that I didn't really know the exchange rate but I should get change. I didn't! I'd say my assistant got 115 yuan tip for her service...
Pilgrimage Map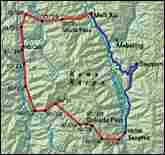 National Geographic Society
O'Hare to Beijing, Beijing to Kunming, Kunming to Gyalthang... during each step of my journey, the legroom on the plane grows smaller and smaller. It makes me think about the description of pilgrims squeezing themselves between narrow clefts and rocks found in Toni Huber's The Cult of Crystal Mountain, where openings between rocks and caves are said to expand or contract in accordance with the spiritual state of the pilgrim. Apparently, I need some spiritual cleansing.
As my plane from Kunming to Gyalthang begins to taxi down the runway, I glance out my window and see an elderly Chinese man, wearing a wide brimmed straw hat and blue peasant pajamas bicycling along side my plane on a small path cut through the grassy median that lies between the airport's runways. For a moment it seems the two of us move forward, together on technologies old and new. We create a visual poem describing the state of China today. A good omen, I think.
Next Entry — October 13: Karma in Translation