October 16: Crossing the Langtsa Bridge
Pilgrimage Map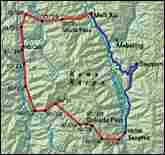 National Geographic Society
After a restless night in a cold but roomy Deqin hotel room, we rendezvous with the rest of our party at Langtsa. It's a tattered strip of wooden shops and stalls resting on the banks high above the Mekong River. There are shops that offer shelter, supplies and sustenance to pilgrims eager to begin their spiritual journey.
Our five horsemen and cook quickly load our seven pack animals with enough food and fuel to see us through 20 days of mountain trekking.
We say goodbye to our driver, his wife and the last motorized transportation we will see until our pilgrimage is completed.
With the wind howling around us, we cross over the Mekong atop the Langtsa bridge, a collection of rough-hewn wooden planks suspended in mid-air by thick, hairy, tan-colored ropes.
Preceding us are other pilgrim caravans with dozens of pilgrims and a few horses and mules. They form a single, undulating chain swaying left, then right.
Multicolored prayer flags tied to the bridge's suspension ropes beat a ferocious counterpoint to the rhythmic clack-clack of our animals' hooves.
Swirling below are the green and brown waters of the Mekong. Arriving on the opposite bank, we are consumed by clouds of yellow dust kicked up by the pilgrim caravans ahead of us as they wind their way around the mountain.
A quick stop at the Dreshingthang temple, the official starting point of our pilgrimage, and into a village where we spend the night in the home of the community leader.
Previous: October 15 — Some Unexpected Passengers
Next: October 17 — Camping with Fellow Pilgrims