October 18: An Injured Yak's Cosmic Fate
Pilgrimage Map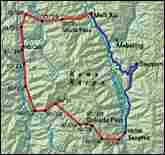 National Geographic Society
It's morning. Kayson approaches me with two cups of hot water in his hands. My jaw drops when he says a line of curious Tibetans had formed outside my tent during the night. It seems they were all anxious to catch a glimpse of the chicame (foreigner).
He says he had to use all his powers of persuasion to discourage their interest — and with a broad smile he says I must be a powerful Lama to have such a devoted following. Everyone in the camp laughs as we settle around the fire and the percolating tea pot.
We slowly wind upward on a path through a forest, the overcast sky darkening the greens of the trees that spread outward on both sides of the path. A yak bull passes us, heading downward towards a village. The yak is limping and its right front leg appears to be broken. I wonder what fate might await him when he returns home...
The memory of witnessing a small group of Tibetan men gutting a yak on the side of the road on our drive from Deqin leads me to conclude that a similar fate probably awaits this injured yak. What possible effect, if any, will this pilgrimage have on my attitude to my own death?
Previous: October 17 — Camping with Fellow Pilgrims
Next: October 20 — Down from Dokarla Pass