October 20: Down from Dokarla Pass
Pilgrimage Map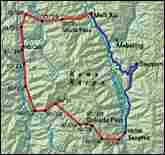 National Geographic Society
We ascend Dokarla and watch as large groups of pilgrims form spontaneous human chains that break apart as some pilgrims pause to rest on the steep mountain path.
Zishuthang is another rest stop on the Kawakarpo pilgrimage — a valley not unlike the others we've encountered with a broad green meadow surrounded by mountains with snow-dusted peaks that feather downward into cold, gray rock. This gray eventually gives way to brown and rust-colored vegetation.
Flanking groves of dark green evergreen trees spread outward around the base of these mountains. In their branches hang wispy strands of cream-green moss that resembles the "angel hair" decorations that my aunt and uncle hung on their Christmas tree.
We will rest here tonight following our daunting trek over the Dokarla pass. Despite the early morning rain, our trek out of Yudrathang and the vertigo-producing ascent up to the Dokarla pass, we arrive here four hours ahead of schedule.
Zisuthang, like Yudrathang and Xinan, has a small store. Like the others it's an improvised structure of timber and stone covered with a semi-transparent, blue-striped plastic tarpaulin. The store offers inexpensive food, water and warmth to pilgrims. There is always a wood-burning fire which stains the plastic tarpaulin black with its smoke.
Spending the night at Zisuthang are a group of middle-aged women from Lhasa. They seem comfortable with their 50-plus years, and joke and laugh at each others' stories. Though our young guide Kayson knows one of their sons, the women decline a request for an interview.
Some of the women appeared suspicious of Kayson, suggesting he might be a spy. Despite his protestations and assurances, the women would not be interviewed. Perhaps the scars of Chinese occupation? Perhaps me and my equipment.
Previous: October 18 — An Injured Yak's Cosmic Fate
Next: October 24-25 — Shards of the Cultural Revolution