October 24-25: Shards of the Cultural Revolution
On our way to Chinatoang, we come across a pass marked with prayer flags, piles of tsampa and clumps of yak butter. Kayson tells me people have left these things to honor Kawakarpo — so we too leave offerings: Kayson his bamboo walking stick, and I leave a small monetary contribution.
But this does not seem enough. I reach into my backpack and take out my water bottle, and sprinkle some of its last drops on the ground. I raise my folded hands to my forehead as a sign of respect. I'm not sure my small gesture is out of respect for the mountain deity, or respect for the devotion and reverence demonstrated by the Tibetan Buddhist pilgrims.
Perhaps this is the personal transformation that I will experience — a transformation from respect for the spiritual commitment of the pilgrims to respect for the mountain deity, Kawakarpo.
Dhanang rests on a mountain plateau, nestled between the borders of Yunnan, Sichuan and the Tibetan Autonomous Region (TAR). Its appearance is not unlike the small towns that grew up in the United States during the Western expansion of the 1800s. A string of shops, a livery stable, cafes and rooming houses face each other, and the only road goes through the center of town between them.
Many of the wood, concrete and mud buildings appear quite new and seem to rest comfortably in the soft yellow dirt. The resemblance of Dhanang to a 19th-century Western boom town is reinforced by the sight of hitching posts and horses tethered outside several of the stores.
Our guide tells me that Dhanang is a politically sensitive area. The presence of a small Chinese military garrison makes us think it better to keep the recording equipment out of sight. To the Chinese authorities, Western journalists are highly suspect — any Tibetan found talking to one is subject to interrogation or even arrest.
Evidence of the Cultural Revolution is here. In the center of town are the ruins of a temple and monastery, and only a few sun-baked mud and straw walls remain standing. The ground around it is covered with the chunks and shards of mani prayer stones. Hundreds of pieces of the stones, with beautiful Tibetan script carved into the surface, are scattered everywhere. Occasionally we see an elderly Tibetan picking up a few pieces of stone and setting them into small piles. How long has this been going on?
The Cultural Revolution ended in the 1960s. There's a story that for now won't be told. We decide it is best not to interview anyone here.
Pilgrimage Map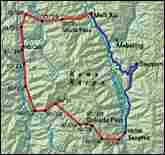 National Geographic Society
We eat our meals at the Caravan Inn, a small single room assembled from slatted wooden walls and a flat wood roof. Beneath our feet is a cool dirt floor. Small square stools surround three wooden tables. The kitchen sits off to the side in a small alcove. Three iron skillets sizzle on top of a very old wood-burning stove. A middle-aged couple serves up delicious spicy food — perhaps the couple comes from adjacent Sichuan province.
On the edge of town there's a medical clinic — two long, rectangular concrete buildings in an "L" shape. Chinese-style tiles adorn the eaves. Through informal conversations with the town's only bank employee we discover there is hope of future prosperity. It is possible that the completion of a nearby road will result in rapid commercial growth.
Previous: October 20 — Down from Dokarla Pass
Next: October 26 — Personal Space, Private Lives