October 26: Personal Space, Private Lives
When leaving Dhanang, we discovered a small group of pilgrims who had taken refuge on the grounds of the village temple. The temple itself had a large figure of Guru Rinpoche (Padmasambavah) inside, along with many new tankas and a large prayer wheel.
We arrive in Gebu at 3 PM, five-and-a-half hours after our trek began. We traveled through a seemingly endless cloudbank, a wet shroud that turned our path to mud. Along the way, two emotions seemed to dominate my mood — exhaustion and frustration. Exhaustion as a result of the interminable trekking and the fact that I could not be with my wife, our boys, our home, familiar territory and its comfortable sites and smells. And frustration over what appears to be an insatiable curiosity by many Tibetans — whether it's their curiosity about our big blue tent, our cooking equipment, me, my equipment, etc.
And surprise, in the Tibetan's apparent lack of distinction between personal and public space. I'm not certain Tibetans even make such a distinction — I think for them, all space is either private or public. It never fails, whenever we camp, that any number of Tibetans young or old will walk up to our campsite, move alongside or in front of you and just... watch.
Many of the people we encounter are nomads. Maybe this is the way their culture perceives space, as simply space, nothing personal. A culture with limited personal or private ownership.
The Tibetans we encounter are as curious about me and my culture as I am about them and theirs — the only difference seems to be our sense of space. Silly, really, how we Americans feel an ownership of the space we occupy. Our imaginary borders extend outward from our body or property at varying distances at various times. The Tibetans we have met aren't inhibited by this.
I am glad I was able to move our return date to Gyalthang up a day. I need that time to find and interview a lama about the Wheel of Life and to clone the recordings we have made. It would be good to be able to call Anne, my wife, but phones are hard to come by here. We did come across one in Dhanang — a single phone in a narrow little shop. To make a call you must wait in line, and when you finally reach the front of the line you are met by a man seated at a table who makes the call. You pay him when you are done.
We seem able to move fairly quickly now. The Tibetans we have met are very shy and reluctant to speak with us, about the afterlife, their reasons for pilgrimage, etc. I don't know whether it's because they don't wish to share deeply held beliefs with me, or because they simply don't give it much thought. They act more from faith in the Buddhist teachings they have received during the last 1,500 years.
Pilgrimage Map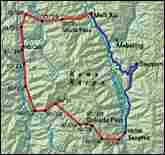 National Geographic Society
Previous: October 24-25 — Shards of the Cultural Revolution
Next: October 28 — The Scent of Burning Juniper