October 30: Bracing for the Shula Pass
Pilgrimage Map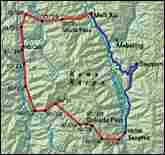 National Geographic Society
We camp at Meijugo, a resting place for pilgrims about to cross the very challenging Shula pass. In front of us is the trail leading to Shula. It winds around several mountains before arriving at a barren plain of red earth and snow. From there, the path disappears into the white rivulets that branch off in irregular creases as they descend from the snow-covered mountain peaks.
Our campsite is built inside a circle of stones nearly two feet high. There's room enough for both our tents and a good-sized fire. We sit and enjoy a hot cup of yak butter tea.
The land around us is angular, with a smattering of low-lying shrubs that have stiff, prickly leaves. Here and there are small charred circles, imprints left by previous campers. There is evidence of beings reborn into the animal realm — small piles of manure and straw twigs are scattered nearby. But tonight, we and our animals are the only pilgrims in residence.
Like all mountains, the peaks around us have a line above which no trees grow. Below this line are green and yellow pines. Above the pines are scattered clumps of prickly shrubs. Above the shrubs is bare, tan-colored earth dusted with bright white snow.
The wind is constant and makes me shiver, despite the bright afternoon sun. I'm told that it will be very cold when we climb over the pass. Tomorrow's journey marks the final leg of our kora (pilgrimage).
Crows fly overhead — they seem to accompany us on each leg of our journey. I am tired after five-and-a-half hours of trekking up the spine of this mountain. I'm almost too tired to prepare my recording equipment for our long trek across the snow-covered Shula pass.
Previous: October 28 — The Scent of Burning Juniper
Next: October 31 — The Final Mountain Pass