October 31: The Final Mountain Pass
Ten-and-a-half hour trek, approximately four-and-a-half hours to Shula. Kayson and I spend at least an hour climbing over large rocks and stones only to discover we have taken the wrong path. We retrace our steps over the rocky terrain and wait for our comrades to direct us onto the right path.
Along the trail, pilgrims have constructed many stone chortens — pyramid-shaped piles of stones about four feet high that imitate the sacred chortens found in all Buddhist countries that hold the remains of Buddhist saints. Scattered here and there are discarded plastic food containers and gum wrappers. These, and the presence of chortens, convince us we are headed in the right direction. Above us at the top of the pass are hundreds of brightly colored prayer flags.
As we slowly ascend the trail, the red earth and stone transforms into a path of bright snow and red mud. The oxygen-depleted air makes breathing the principal audio event.
The rest of our party, satisfied that we are now headed in the right direction, begin their ascent. Seven pack animals, a mix of horse and mule and the five horseman begin to quickly close the gap between us. My hopes of reaching the summit before them quickly evaporates.
I abandon my hope of recording the animals as they approach the pass and then descend on the other side. With the sound of wind-whipped prayer flags in front of me, and the increasingly louder sound of bells and snorts behind me, I conclude we'll reach the top together.
Hundreds of prayer flags stretch out from both sides of the pass. They follow the outline of the fast-rising mountain ridge. The red, green, yellow, blue and white prayer flags twist wildly in the wind, and blasts of frigid air sweeping though the pass set my teeth to chattering.
This and the waves of emotion rising inside me make it very difficult to talk. I'm afraid my recorded narration is little more than jumbled fragments of thoughts. Having reached the final pass of the pilgrimage I am excited, delighted and grateful for having had this opportunity to share this amazing journey with so many devout people. It's overwhelming — and frankly indescribable.
Pilgrimage Map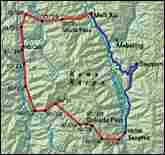 National Geographic Society
Previous: October 30 — Bracing for the Shula Pass
First Entry: October 11 — The Laws of Disappearing Legroom