October 13: Karma in Translation
Yesterday afternoon, I met with a 70-year-old Tibetan monk, a monastic since age 10. He agreed to meet with me, but did not want the interview recorded.
He was born in a village close to the Sumtseling monastery, where he is now a resident. During the Cultural Revolution, he fled to India to escape persecution. He returned from exile three years ago during a period of Chinese religious liberalization.
Pilgrimage Map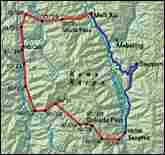 National Geographic Society
I asked him about rebirth, and he tells me that when I am reborn as an animal it will be due to the karma I have created in this and previous lives. I ask him if I must be reborn as an animal — and he again states that it will be the result of my past and future actions. I stop asking and hope that I am simply confused by the translator's interpretation.
I shift the conversation to my pilgrimage. He tells me that if I am concerned about the benefits that I will receive from my pilgrimage, I can expect little. He suggests that a better attitude would be to perform the pilgrimage in the hope that it would benefit all beings.
Previous: October 11 — The Laws of Disappearing Legroom
Next: October 15 — Some Unexpected Passengers